Since 1969, Decorating Den Interiors has been making the world more beautiful one room at a time, with individually owned and operated franchises throughout the U.S. and Canada. No matter your design style, our experienced designers will help you create a design that perfectly reflects the way you live in your home. It is our goal to provide an incomparable, fun design experience for every customer. We do this through delivering outstanding design, quality products and exceptional service. Once your design is finalized, we coordinate everything from ordering to installation. Creating beautiful and unique living spaces has never been so simple.
1969
Originally called American Drapery Consultants, Decorating Den Interiors (DDI) was established in 1969 by Steve Bursten, a former fabric salesman. A year later the first franchise was purchased.
1970
The first DDI franchise was purchased by a man named Windy Pugh – he owned a dry cleaning business in Leesburg, Florida.
1974
The company changed its name to Decorating Den and added wallcoverings and floorcoverings to its offering.
1976
Jim Bugg, Sr. helped garner 10% of the real estate market share for a little company known as Century 21. As Jim Sr. was helping to build the Century 21 franchise, he was trying to figure out a way to franchise the interior decorating business with his wife, Carol, a member of ASID and already an established member in the interior design industry.
1978
Carol Donayre Bugg, ASID was an acclaimed model home interior designer. Carol was educated at Parsons School of Interior Design in Paris.
1984
Decorating Den grew steadily, and in 1984, Jim Bugg, Sr., having seen a magazine feature on a women-owned interior decorating franchise business, bought into the company along with his wife. In 1986, they became the company's sole owners.
1989
Decorating Den continued to expand, with the first Canadian franchise opening.
1990
Carol Bugg authored the first of six Decorating Den coffee table books entitled Dream Rooms for Real People.
1994
Jim Bugg, Jr. was named President and CEO of Decorating Den while Jim Bugg, Sr. was elected as Chairman of the International Franchise Association.
1995
The company changed its name from Decorating Den to Decorating Den Interiors to better exemplify the full-service compliment of products to include furniture, accessories and lighting.
1998
DDI was a featured contributor to numerous HGTV shows including Decorating with Style and This Small Space. Time Magazine featured DDI in a story called American Dream Home.
1999
Divine Design, Carol Bugg and DDI's second book was published.
2000
The DDI manufacturer/supplier network expanded to nearly 75 brand name home furnishings suppliers in all categories.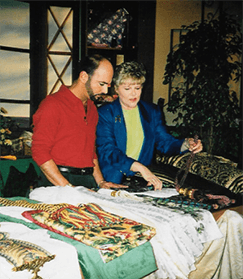 2003 - 2005
DDI was a regular contributor on the Christopher Lowell Show on the Discovery Channel.
2004
Corporate headquarters for DDI moved from Gaithersburg, Maryland to its current location in beautiful Easton, Maryland near the shore of the Chesapeake Bay.
2011
DDI franchise owners survived the recession better than most in the industry. Sales were building and additional manufactures were brought on board. Jim Bugg, Sr. was bestowed the International Franchise Association's highest honor, The Hall of Fame Award.
2012
A major brand makeover for DDI was in order including the current logo and new website. National ad campaigns were relaunched.
2016
The DDI supplier network expanded to over 150 brands and was named the LIVV Home Collection. Brand expansion included multiple style categories and each were price rated "Good, Better and Best" to help franchise owners quickly meet client budget requirements.
2019
Decorating Den Interiors celebrates 50 years of making the world more beautiful, one room at a time.
Present
2023
DDI remains the leading interior decorating and design franchise in North America.
Get all in our business
As you can tell, Decorating Den Interiors is well-established, with a team of designers throughout the U.S. and Canada. Learn how we work, view our portfolio, or discover the designer within you!