4 fall-inspired color themes for your dining room
Fall has officially arrived and with it comes some of the most gorgeous colors nature can provide. Rustic shades of orange, brown, yellow and red found in the changing leaves, pumpkin patches and apple orchards often encourage a fall-inspired color theme in your home, but there are other vibrant colors that flow with the changing season as well. If you plan on throwing this year's Thanksgiving get-together and want to spruce up your dining room just in time for the holiday, now's a great time to think about changing up the color scheme!
No matter what type of adjustments you plan to make, it's worth contacting a Decorating Den Interiors personal decorator for design assistance. He or she can go over the following fall-inspired color themes to prepare for the season ahead:
1. Bronze
Create an elegant and endearing atmosphere in the dining room with bronze hues, as suggested by HGTV. Bronze window treatments and embellishments in the lighting fixtures make a calm yet formal touch. Complement the space with orange and red accents.
2. Amethyst
A touch of purple goes a long way, and amethyst is a rustic approach at using the vibrant color. Whether you're interested in completely transforming the room by painting the walls, or you're just looking for a fun color for the throw pillows, lamp shade and area rug, amethyst makes an interesting twist on the traditional take of fall colors.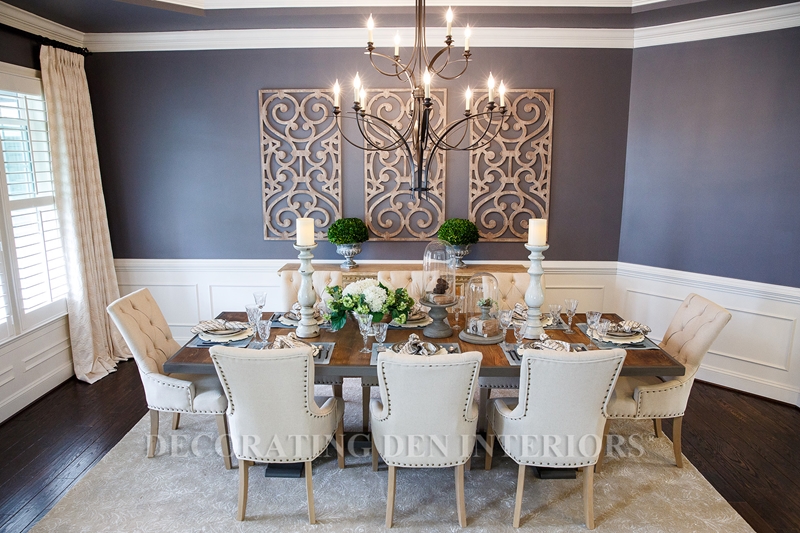 3. Yellow
Deep mustard is another rural and toned-down way to make use of a vibrant and inviting color. Elle Decor recommended taking things up a notch by creating a yellow accent floor instead of an accent wall. Of course, you can simply emphasize shades of yellow in decor throughout the room if you're not interested in replacing the foundation's color.
4. Gray
Soothing shades of gray creates a glorious backdrop to the gleams changing autumn light, according to Better Homes and Gardens. It's also a neutral route to take, perfect for redesigning the room for the entire year. Bouncing off of the gray, you can accent with deep shades of blue and saffron in your accessories and pieces of wall art.
Just because autumn has already arrived, doesn't mean you can't get a late start on decorating! Now's the perfect time to think about which fall-inspired color theme you'd like to use in the dining room to prepare for the Thanksgiving festivities. Once you have an idea of what you'd like to change, get in contact with a design consultant from Decorating Den Interiors. He or she will come over to your home to conduct a free consultation and provide feedback based on your space and ideas. Once you've discussed your options, your personal decorator will make sure your design dreams are achieved.
So what are you waiting for? Don't hesitate to reach out to a professional from Decorating Den Interiors today!