4 ways to give your dining room a modern makeover
For some, the dining room is the main gathering space for entertaining guests. For others, it's just meant to be an aesthetically pleasing area that sees minor foot traffic. Regardless of how you use your space, do you think it could use a refresh? Why not consider modern design? It's a sleek and sophisticated way to present your area for wining and dining.
With advice from a Decorating Den Interiors personal decorator – plus these four tips – you can turn this space into the mid-century modern room of your dreams.
1. Follow a modern color scheme
The color of your walls should be based on the modern feeling you're hoping to exude – for a sleek and sophisticated look, stick with dark shades of gray or taupe. For a more distinct vibe, paint the walls in white, complementing with bright, bold accessories in shades of pink, yellow or blue. Talk to your decorator about your goals and he or she will come up with a unique strategy to help you achieve the perfect color scheme.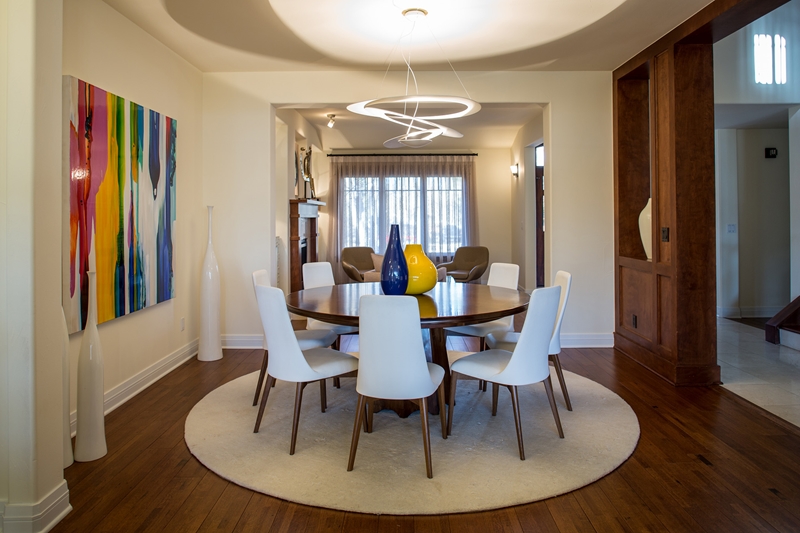 2. Set the tone with modern light fixtures
The lighting fixtures you choose to hang can make or break the modern feel you're going for. Don't choose classic ceiling globes and standing lamps with generic shades. Instead, stick with hanging pendant lamps, bubble chandeliers and slate LED box lamps. Your personal decorator can introduce you to an array of modern fixtures from Decorating Den Interiors.
3. Use clean line furniture
Stay away from the overwhelming curvature of traditional vintage dining chairs, tables and book cases. Instead, choose clean line furniture. A sleek black dining room table will elongate the room. Complement the table with bold, yet simplistic, chairs to seat your guests. Keep all other furniture, such as bookshelves, chests and other cabinetry as sleek as possible.
"Simplicity is key in modern design."
4. Accessorize – minimally
Once you and your decorator have developed the perfect color scheme, followed by choosing modern light fixtures and clean-cut furniture, you can accessorize. Just remember: Simplicity is key in modern design, so there's no need to go overboard. A vase of flowers as a centerpiece will do the table justice. The walls can benefit from a few large pieces of decorative artwork, but don't forget: Simplistic design is all about maximizing "white" space.
Modern techniques make bold design simple and stylish. If you're ready to turn your dining room into a minimalist sanctuary, reach out to a Decorating Den Interiors design consultant today. He or she will visit your home for a free consultation to assess the space and give quality recommendations for designing with a modern approach. With help from a personal decorator, you'll find transforming your dining room a seamless and simple project.
So what are you waiting for? Don't hesitate to contact a home interiors consultant today!