5 subtle interior design tips
Often, the difference between a run-of-the mill room and a truly extraordinary one is subtle. You can't quite put your finger on what sets the latter apart, but there is just something about it that makes sense. It is cohesive without being monotonous, engaging without being cloying and well-appointed without being stiff. How are those designers able to do it?
Much of it comes down to experience and creativity. Designers for Decorating Den Interiors have a wealth of knowledge in making rooms looks their best, and the intrinsic artfulness to transform a vision into reality. Their ability to walk into a space and figure out how to get the most out of it is borne of years of practice, and resists easy categorization.
However, there are some principles that help guide top-notch interior decoration. Here are five design rules that you might not have considered:
1. Create visual focus
In a small or medium-sized room, you generally want to choose one point of visual focus. In a larger room, you might go with two, but anything more than that and you run the risk of creating cacophony. A space without a focal point is dull, but one with too many can be distracting.
Antiques, unique finds and large paintings are all good choices, as they naturally draw the eye and are worth showing off. Use one of them to anchor a room, and make the other pieces secondary. Visitors will naturally have their attention drawn to the star of the space, without being distracted by too much going on.
2. Be deliberate in your rug placement
One of the readiest tells of amateur design is thoughtless rug placement. You have three basic choices when it comes to putting your furniture on an area rug, and you should always be deliberate when deciding which to go with:
All on: The furniture completely rests on the rug, creating a slightly fancier look that requires a room and a rug that are both on the larger side. Be sure to leave a foot to a foot-and-a-half of floor space around the borders of the furniture.
Front on: Only the front legs of couches and chairs sit on the rug. This creates a more well-defined space and unifies the furniture, and can be a savvy move for a room that would otherwise feel disjointed.
All off: None of the furniture is on the rug. This makes the most sense for a smaller area rug, especially if you are working with patterned pieces over a solid tapestry.
Whichever of these you choose, make sure that you are consistent. If some of the furniture is on the rug and some of it is off, the room could look sloppy.
3. Use a variety of textures
If you want to create a dynamic visual contrast in your room, you don't always need to use a variety of colors. Sometimes, using furniture and accessories in different textures is a better, more cohesive method of breaking through the monotony.
This is particularly true with neutrals. The worry with these shades is that they will come off as bland and uninteresting. Avoid this pitfall by switching up the materials – mix and match raw silk, velvet, cotton and linen for a visual depth that goes beyond hue. Some of the sheens will absorb sun, whereas others will reflect it, allowing you to play around with the influence of light on the space.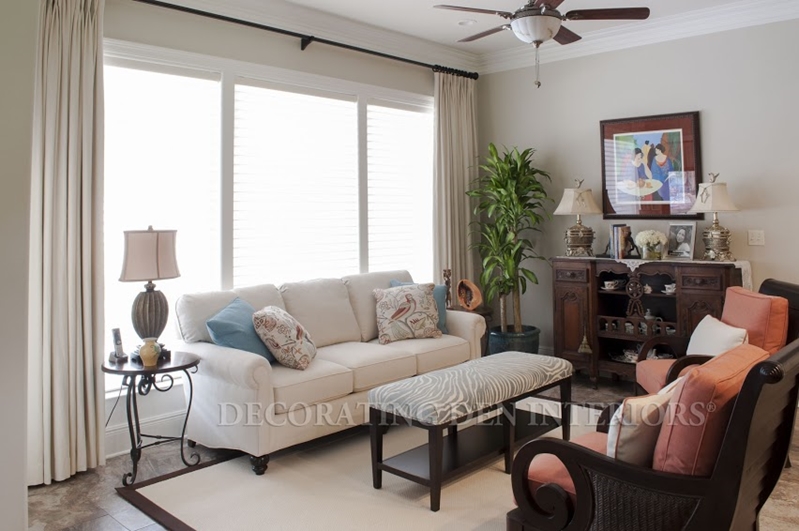 4. Always keep scale in mind
Shopping for new furniture on your own can be difficult, particularly because you see it out of the context of your own room. Something that didn't seem onerous in the store can completely dwarf the rest of your pieces. Or, it could have stood out when you bought it, but seemed far too small and forgettable once you brought it home.
You should have items of various scale in the rooms you design, and always have a keen understanding of how new pieces will fit into that scheme. Your best bet for doing this well is to bring pictures and measurements whenever you go shopping, or to simply consult with a Decorating Den Interiors designer, who can come to your home and help guide you through the process.
5. Choose the paint color last
When you're redesigning a room or moving into a new house, it can be tempting to make painting the walls the first thing you do. Sometimes, this makes sense, but it is well-worth considering switching the order and leaving repainting until the end.
There are thousands of paint colors out there, and dozens even within the same general color scheme. A particular hue might be perfect to start with, but as you bring in more pieces to complete the room, it could be slightly off of ideal. Or, the lighting could wind up being different than you assumed, making the shade you chose look different than expected. If you take the time to finish the space and live in it a bit before painting, you avoid these issues and can be assured that you are choosing the perfect color.
For more design advice, or for customized help in a room in your house, contact Decorating Den Interiors today.