5 ways to spruce up your living space for New Year's Eve
New Year's Eve is right around the corner and you promised to throw this year's big bash. But preparing for the night can be a bit stressful: Between sending out the invites and deciding which hors d'oeuvres to serve, you'll find it hard to sit back and relax as you get ready to party.
Decorating for the big event can put you on edge too, but it doesn't have to! With a few helpful hints and tips from a Decorating Den Interiors personal decorator, your guests will wonder why you haven't always been the one throwing the big holiday get-together.
"With a decorator, you can turn your space around and impress your friends with ease."
Don't let the idea of sprucing up your home for New Year's Eve get you down. Here are 5 ways to turn your place around and impress your friends with ease:
1. Rearrange your furniture accordingly
Before you start bringing out the decorations, you need to consider the space you have to work with. Your current furniture arrangement might seem perfect for a normal occasion, but you're going to have more visitors than usual. Talk to your personal decorator about the best way to maximize your space. Maybe that means moving the coffee table and chest into the foyer, or simply placing them up against the wall.
And don't forget: You may have a number of people walking around and mingling, but there are going to be plenty of guests sitting down and getting cozy. How many people do you intend to invite?  Compare that to the available seating in the room taking into account everyone who may not be able to attend.  You may have to purchase an additional chair or two.  Of course, if the ones you have are a little worse for wear, you might just have to replace them completely.
With that being said, make sure you're providing ample seating without taking up too much floor space. Talk to your personal decorator about which pieces of furniture would benefit you most.
2. Coordinate colors in décor
Decorating for the New Year's Eve celebration doesn't have to look tacky. Why not coordinate your embellishments to match the color scheme you already have in your home? A warm maroon room would benefit from black and gold streamers – the more glitz and glamour, the better.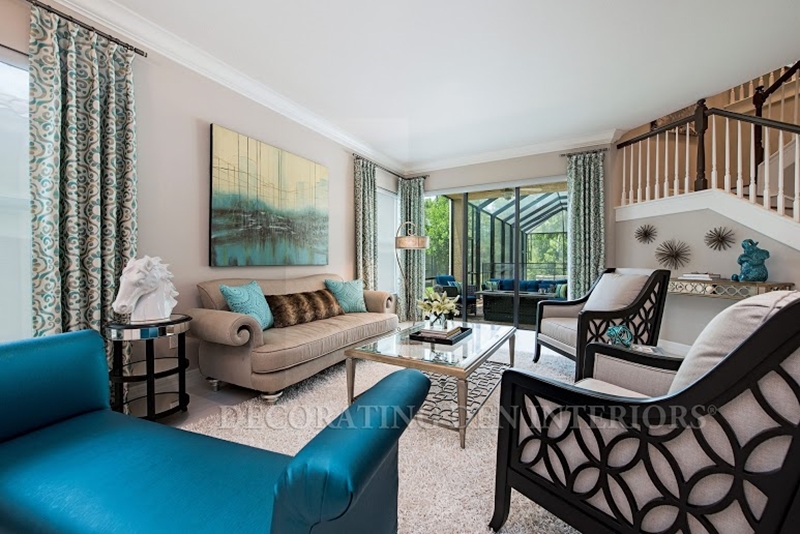 If you have a neutral color palette, consider making a bold statement in your decorations with a daring hue. A bright pink or orange can give your space the spunk it needs to throw the year's best holiday bash.
If the colors in your home are a little dated, ask your Decorating Den Interiors decorator for some advice on the current color trends.
3. Choose ambient lighting
Lighting has a way of setting the right tone in any room, and choosing a new fixture could make or break your party. Talk to your decorator about your best options for ambient lighting. He or she may suggest you invest in a chandelier if you want to make a sophisticated impression. In addition to perhaps purchasing overhead lighting, consider installing a dimmer to adjust the light to the right mood. If overhead is out of the question, add a couple of stylish lamps.
4. Set up a makeshift photo booth
Want to give your New Year's Eve party the individual touch that everyone's been craving – without an expensive cost? Turn this bash into a unique get-together by setting up a makeshift photo booth. Simply keep an area open in your dining room near the wall. Hang up a festive backdrop, provide cute interactive props and invest in a small tripod that holds smartphones so your friends can take the pictures with their own devices. Talk to your personal decorator about which lighting fixture can illuminate the space best so they'll always take the perfect picture.
5. Invest in an entertainment cart
Every great New Year's Eve party needs a bar – but that doesn't mean you have to get the woodworking tools out and install one in your home. Just invest in a stylish entertainment cart for serving food and drinks. Many Decorating Den furniture suppliers offer these, so just ask your personal decorator to make the call.
See? Turning your home into an unforgettable New Year's Eve isn't out of reach. If you're ready to prepare your space just in time for the big day, it's time to get in touch with a design consultant at Decorating Den Interiors. After scheduling your free in-home consultation, your designer will help you make moves and turn you into the go-to party-throwing friend.