6 ways to maximize the space in a small kitchen
For those who love cooking family dinners and baking sweet desserts, a tiny kitchen might seem like a big disadvantage. However, there are many simple design hacks that can help you maximize the space without taking focus away from the style. After all, a kitchen that's equally trendy and functional will inspire the most delicious dishes.
Don't be discouraged by your small kitchen. Just get in touch with a Decorating Den Interiors personal decorator to discuss these tips for utilizing your small space:
1. Make the most of your walls
Filling your walls with artwork and décor isn't the only way to give your kitchen personality. You can also use hooks and shelves to showcase your mugs, glasses and dinnerware when you run out of cabinet space. A magnetic mounted knife rack also works wonders when your counter space is minimal. Making your walls functional gives them purpose with an added flare.
2. Choose a versatile seating arrangement
Just because your kitchen is small doesn't mean you can't sit down and enjoy your meals in it. Just turn your island into a fully-functional table with a versatile seating arrangement. Choose a tall platform that allows enough rooms for stools to stay when they're not in use. Once it's time to eat, just clear your surface, slide out the chairs and enjoy your meal.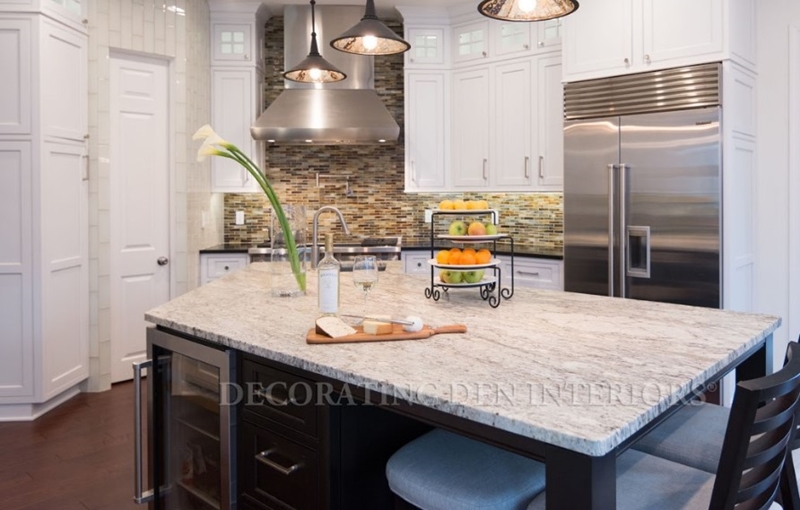 3. Utilize the space above your cabinets
Don't let all of the space above your cabinets go to waste. Start storing the pots, pans and extra kitchen accessories that you don't use often in this area. But don't just cram the pieces up there – invest in sleek wire baskets and line them up to give the storage space a chic touch. Your guests will adore the extra mile you took to spruce things up.
4. Invest in smaller appliances
Your small counter space relies on you to keep it clutter-free, and that's not going to happen if your appliances are oversized. Invest in a small food processor, coffee pot, microwave and more to make the most of your countertops.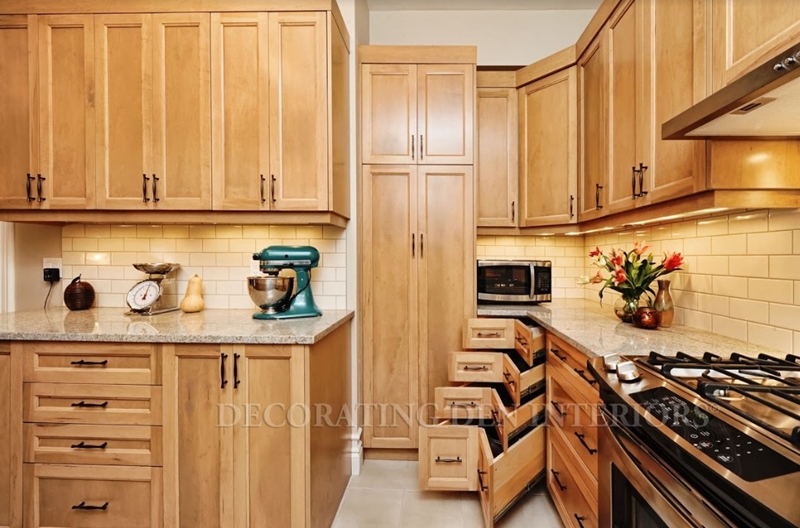 5.  Use a rolling cart
A kitchen with limited counter space is a cook's worst enemy. Where are you supposed to prepare all of your gourmet dishes? Don't worry – you have another option. Just invest in a rolling cart! Just wheel it into your cooking area when you need it and slide it into a storage closet when you're finished. You can even place delicate flowers on the cart and leave it in the hallway when it's not in use. That way, you can maximize the décor piece without taking away kitchen space.
6. Consider the details
Remember: Maximizing your space means paying attention to details as well. Choosing the perfect drapery to hang from the windows and an area rug to place at the foot of your island will give your kitchen character and make it more cozy.
Are you ready to make these design moves in your kitchen? Contact a design consultant from Decorating Den Interiors to book your free in-home consultation. He or she will assess your home and come up with a strategy for making the most of the space.