Creating an office that will help you reach your business goals
Running your own business out of your home isn't as easy as it sounds. There's a lot to balance, and if you don't have the right work space, you could end up sacrificing productivity. You want a stylish office that inspires creativity and flaunts your stellar expertise as a professional if a client stops by. But before you get busy designing your bossy decor, you have to create an office that sets you up for success. Look at the big picture and then work in from there. Think: layout, lighting and color before office supplies and ambience.
Decorating Den Interiors personal designers are professional fashionistas that can help turn any old room into an idyllic home office, just follow these tips:
Color outside the lines
Pure white walls might have a certain hint of elegance and sophistication to them, but why not spice it up a little? Here's the thing, Entrepreneur magazine reported that the colors really do affect people psychologically – the body has emotional and physical reactions to different hues. Consider these combos when you and your personal designer are selecting your color scheme:
Blue, green and violet: These are relaxing colors so they can help you if you have a high-stress job, but might lull you to sleep otherwise.
A green and yellow: Green is a more natural color, and a gradient of these will give your space an organic feel which is great for focus. Yellow is an attention grabber, so it can be a lot on its own which is why it mixes flawlessly with green.
Red scale: The most aggressive of colors, red will give your room energy and might produce a lot of strong emotions, so its recommended that it's just used as an accent.
Purple scale: Purple signifies creativity, perfect if you need some extra imagination.
White, ivory and gray: These neutral tones are dedicated for your comfort zone – they're ideal if you want to use a splash of an accent color.
Be light, be happy
Good lighting is essential to better concentration and higher productivity. Light is the difference between staying awake and falling asleep at your desk. Seriously! Business.com explained that the body has an internal clock that is greatly affected by your exposure to light. Get the right light and your mood improves and you'll have more energy to be the productive  What's your style? Are you more of a classic, crystal chandelier kind of person? Or perhaps you're a mod desk lamp type of gal? Your Decorating Den Interiors designer will be able to help you find the perfect light for your new office.
You also want as much natural light as your space can muster, which brings you to your next tip.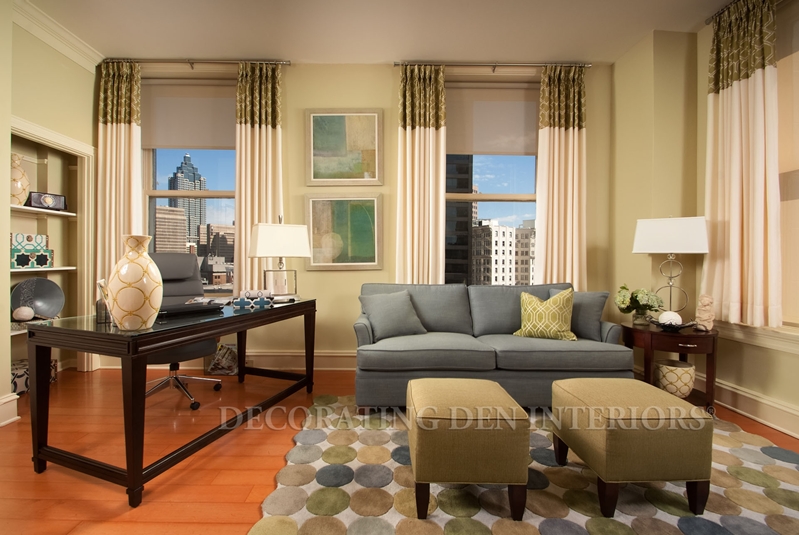 Create a view
Forbes contributor Kate Harrison explained that having a view of the great outdoors actually increases productivity. Sure, watching a butterfly float by might seem like a distraction, but Harrison said a view enhances productivity by 16 percent – hence why the big boss gets the corner office. If you can, pick a room at the back of the house to redesign as your office space. Then you'll be able to look out into your lovely landscaped yard. Decorating Den Interiors designers are experts at feng shui, but note that when you're arranging your office, you should situate your desk so you can get to gazing when you need a quick mental break.
If you're nervous about getting too distracted, however, simply hang up some bold-patterned window treatments. This way, when you catch yourself daydreaming for a little too long, you can shut the drapes and buckle down. Drapery can be both chic and functional!
Sophisticated office essentials
You're almost to the accessorizing part – but before you do, you need to make sure they compliment your office essentials. That being your desk and chairs of course! When you're picking out your desk with your personal designer, make sure you have plenty of space so your office supplies won't close in on you. Nothing is worse than feeling claustrophobic while doing work. Pick from a variety of styles – everything from wrap-around corner desks to clean glass toppers are at your disposal. If you think you need more space, or want a really unique vibe, why not look at a selection of kitchen tables? A round shape will give your office adds a one-of a kind feel to your space.
"There's a whole science behind seating."
But don't forget about seating. Entrepreneur explained that ergonomics are everything – a good chair promotes health, safety and overall well-being. There's a whole science behind seating – you want support from your back to your neck, but all you really need to know is which chair to pick. Go for a professional chair, or even a plush armchair.
If you have clients coming to your home you'll need a place for them to sit. Seat multiple guests at once and mix things up and go for a cushioned bench. Detail with a couple of throw pillows and you have a client-ready seating arrangement.
Personalize your space
Really step outside of your comfort zone. Think outside the box. Or let any another cliché inspirational phrase get you thinking about your true aesthetic. Having trouble? Consider these style tips from fashion blogger Christine Andrew who let PopSugar inside her new home office. Andrew translated her fashion expertise into her interior design and created some seriously unique ideas. For example, she turned a monogrammed mug into a vase for a simple succulent and repurposed her bookshelf into a shoe shelf. Perfect for a fashion blogger!
What interesting displays can you dream up? Turn a bar cart into a mobile garden, or a refurbished picket fence into a filing station. Once you start seeing a piece of furniture in a different light, then you and your personal decorator from Decorating Den Interiors can really take your interior design skills to the next level. Finalize with a vibrant area rug, and the whole space will really come together.