Dark Kitchen Ideas to Add Depth to Your Home
Even if you're not a bona fide cook or baker, your kitchen is still a vital part of your home, and it deserves as much attention to detail as any other room! While many people may view functionality as the chief consideration in kitchen design, this area is also a fantastic opportunity to showcase your style and personality.
Millennial pink and clean cream colors aren't for everyone. If your tastes are more unconventional and even somewhat exotic, consider saying "yes, chef!" to a dark kitchen. In this article, we'll explore the basics of designing a dark kitchen and give you some handy tips and tricks to use when creating a space that speaks to you.
Classic Dark Kitchen Colors
Some people may not consider a dark color palette to be particularly fun or exciting, but the truth is that you can do so much with colors at the bottom end of the color spectrum.
Paint it Black
This isn't just the title of a classic Rolling Stones hit: It's also great decorating advice for a modern kitchen. Naturally, black is a go-to hue when decorating a dark kitchen. It's incredibly versatile, and you can pair it with almost any other color. Important to note, however, is that unless you're purchasing Vantablack, no paint or material is truly black, as black is actually the absence of color.
Rather, you'll find differing shades like onyx, charcoal and jet. If any variant of black isn't quite your speed, try charcoal, lead or graphite gray. All three will help create a moody kitchen without it being too dark.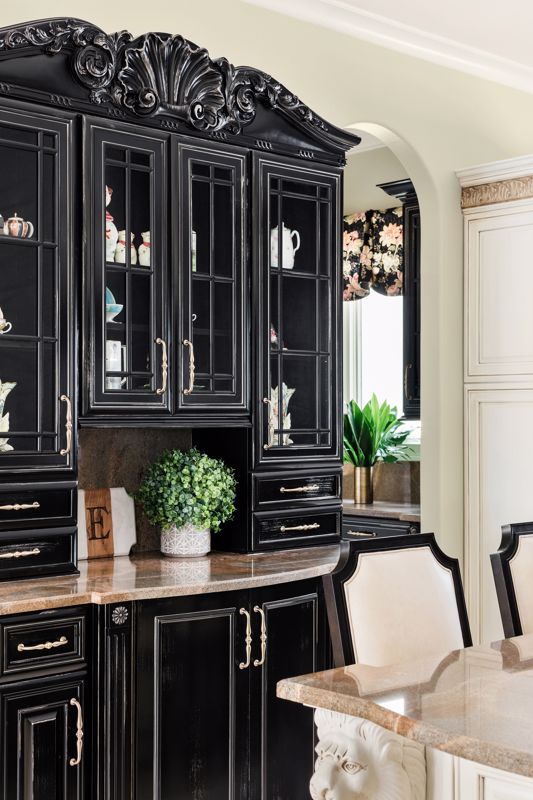 Lighten the Mood With Some Color
Should you be opposed to the idea of an entirely black kitchen, use a dark shade of a cool color. Navy blue or the aptly named midnight blue are both very well-suited for a more rustic vibe. Alternatively, emerald, dark sea-green and hunter green work beautifully if you want to incorporate a touch of nature in your kitchen. Feeling like royalty? A deep purple like aubergine or plum will do the trick in a contemporary kitchen.
While you have many choices when it comes to color or lack thereof, it's a good idea to stick to just one or two across your walls, cabinetry and islands (think monochrome). You can mix a slightly brighter color with a dark gray or black, or use two dark shades of the same color in your palette.
Remember that you're at liberty to incorporate a touch of lighter color such as white, almond or cream in your color scheme to create a delightfully stark contrast.
Matching Dark Materials
Now that you have an idea of what color combinations are most suitable for a dark kitchen, it's time to put that into action by choosing your materials.
Lay the Dark Kitchen Foundations
Light laminate wood or smooth slate tiling are ideal as these materials are easy to clean, which is all-important in a place where spillage is inevitable. Fairer floors are perfect if your walls are dark. Of course, you can go in the complete opposite direction with a dark floor if you want to use white cabinets and counters.
Concrete also works well as an easily maintained surface and a middle-of-the-road color, and it can add a modern, industrial edge to your kitchen. You can also pick a classic black-and-white checked tile, as this monochromatic pattern will complement the rest of your kitchen setup nicely.
No Backlash from Your Backsplash
Speaking of tiles, let's discuss a dark kitchen's backsplash. Stones like marble or granite, bare brick and wood panels are all suitable to place above your sink and stove. Again, though, you'll want a material that's easy to clean. As with the floors, pick a hue on the opposite end of the color spectrum for your walls to produce variation that adds depth and interest to your kitchen's aesthetic.
Kitchen Cabinets and Countertops
Naturally, your walls make up a fair portion of your kitchen's color and, therefore, overall aesthetic. But, your cabinets, counters and islands (if you have them) provide even more real estate for interior design.
Using Cabinets for Color
From the pantry to storage space for cutlery and crockery, you likely have more than a handful of kitchen cabinets. So, the colors and materials you choose for them are of the utmost importance! Let's start with your cabinets.
Dark cabinets, especially black cabinets, are your best bet when designing a dark kitchen. You can either exactly match your cabinet color to your wall color to create a seamless appearance, or use a darker shade of the same color you used on your walls to produce depth.
This second option is particularly helpful if you want to avoid running the risk of making the kitchen appear small, as a dark hue is sometimes wont to do. If you're feeling adventurous, use a textured glass like frosted or fluted glass to add some flair to a monochromatic palette.
Count on Countertops
Although this isn't a rule set in stone, it's a good idea to match your cabinets with your counters and kitchen island, even if that color is different from your walls. That being said, you have some freedom when it comes to your countertop. In general, that's where it's safest to play with lighter shades (in addition to your flooring) to create contrast. Ivory or white countertops pair especially well with dark wood cabinets.
You have a bunch of options when it comes to material selection. Stones – whether real or imitation – are not only incredibly aesthetically pleasing but also very easy to clean. A marble countertop balances luxurious elegance with contemporary panache, and you can't go wrong with a classic granite countertop.
But, if that feels too cold, add some warmth with a light blonde wood like ash, birch or pine. Again, you can go with an artificial version or the real deal here.
Dark Furniture and Fixtures
With your dark kitchen's major components done and dusted, you can turn your gaze to the finer details.
Lift Spirits With Lighting
Although you're jonesing for a brooding atmosphere, you don't want to sit in total darkness in a depressing kitchen. That's where your lighting comes in. Obviously, you'll want to keep your illumination to a minimum, but you still need to see the food and drinks you're preparing!
Minimalist pendant lighting with naked bulbs adds a touch of modern flair and bite that suits dark design without brightening the kitchen space too much. Alternatively, a white ceiling complete with flat lights can help brighten a small kitchen and make it appear bigger and more airy while keeping the space dim enough to set the right mood.
A Seat at the Table
If you want your kitchen counters or island to double as a tiny dining area, you'll need some chairs. Like floors and countertops, lighter frames can help create dimension and visual interest in lieu of a rainbow color palette. Seats with metallic finishes are also a great option to spice up a dark kitchen with an Art Deco feel.
Get a Handle on Fittings
Like your seats, resplendent faucets and door handles add some much-needed shine and glamor to a dark kitchen, especially if you've chosen matte finishes. However, it's best practice to stick to one color, so choose between brass, copper or silver and keep that consistent across your handles and spouts.
As you can see, a darker color palette for at least one of your home's rooms isn't reserved for goths or punks. Anyone can enjoy a dark kitchen, but if you think you might need a helping hand, you're in luck! Decorating Den Interiors boasts decorators who have years of decorating expertise in their field.
Simply contact us, and your assigned decorator will give you a call to kick-start your decorating journey. They'll pay you a visit to get an idea of your space, and then they'll get to work on designing a custom plan. Once you're both happy with all the nitty-gritty details, the real work will begin. And, we'll keep you updated and answer any questions you may have at every stage. Let's work together to make your dream kitchen a reality!