Does your closet need a makeover?
When sifting through your closet and wardrobe, are you often leaving piles of discarded clothing behind you? You can't find what you're looking for or maybe you just can't seem to pull your options together. Don't worry – this happens to everyone. Many will blame the clothes within the closet – but did you ever stop to consider it might actually be the closet itself to blame?
You're fashion forward, so you likely wouldn't purchase something without a killer outfit in mind, but if it gets stuffed to the back of your wardrobe, you might also be stuffing away your inspiration. Dressing yourself is all about visualizing what you need, but that immediately becomes a tremendous task when you don't know where anything is. If you're currently thinking that this situation sounds like you, then your closet needs a makeover.
A good layout will give you the space and organization to see everything in front of you so you can put together compliment-worthy outfits each and every day. How can your closet get the look, you wonder? Start by calling up the nearest Decorating Den Interiors personal decorator, to ask about these tips:
Give your clothes room to breathe
If you're throwing your bodyweight into your clothes to move them aside as you look for your desired garment, then you probably need to find a better way to maximize your space. Don't worry – the answer isn't to throw away your clothes. Instead, consult with your personal designer from Decorating Den Interiors to strategize how you can maximize organization in your space.
"Do-away with any unnecessary space wasters."
This doesn't have to be a project that turns your closet into a construction zone. Your personal designer will be able to show you options like tiered racks or supplemental storage units. Better Homes and Gardens magazine noted that a good makeover will do-away with any unnecessary space wasters like sliding doors. Instead, you can repurpose window treatments, and use them as a chic doorway. This way, you have access to the whole closet without the annoyance of having to reach around the doors.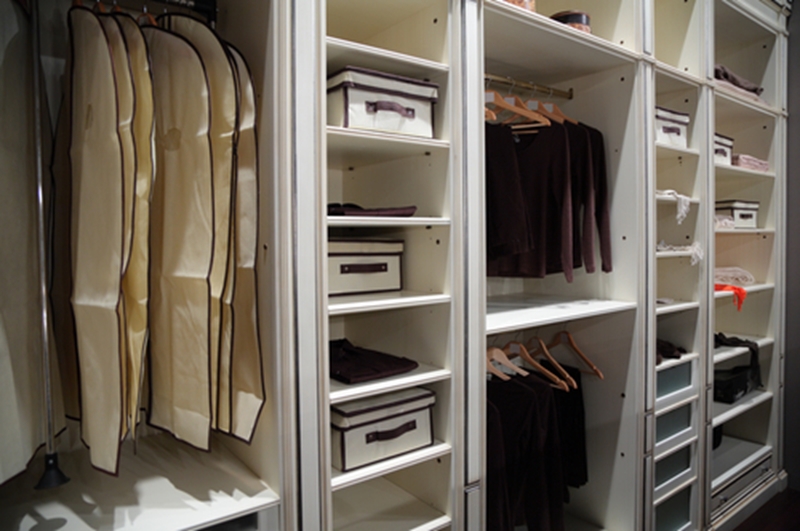 Customize drawers and shelves
Real Simple magazine explained that organization is made just a little easier when you dedicate drawers and shelves to various clothing items. All your dresses should be in one place and your sweaters in another. You can even go so far as to break things down into seasonal categories as well. Your personal decorator from Decorating Den Interiors will be able to help you plot out your closet space so everything makes sense organizationally.
Get creative with accessory organization
Diversify your closet with some unique organization methods. For example, repurpose a bar cart to become a mini vanity or accessory display case. And most importantly, give your shoes the spotlight they deserve by filling a bookshelf with your heels instead of novels and voila – you'll never have to scour the house for a missing shoe again. Your Decorating Den Interiors designer will have more tips and tricks like these, so get to consulting today and you'll have your dream closet before you know it!