Do's and don'ts of creating a stylish and organized home office
There are tons of benefits of having the luxury of working from home. There's no traffic-filled commute, you have a more flexible schedule, you're less distracted, and most importantly, you aren't stuck in a cubicle. WFH also means you get to design your own office. You can flip through hundreds of magazines until you're completely overwhelmed with interior design ideas, but that's all they are – ideas.
What those magazines lack is personalization. They offer cookie cutter designs, but you can bet someone else has the same design. It's hard to feel creative or inspired if someone else has the exact same office as you. Those advertisers don't know your line of work, haven't seen your work space and they don't know you.
Fortunately, your Decorating Den Interiors designer can help you pin down your unique aesthetic and craft a workspace that is true to you. As you craft your personal design, consider these do's and don'ts of how you and your personal designer can create a chic home office space that will make you excited to get to work, even on a Monday morning:
Do not: Clutter your work space
As you get excited about your new work space, you probably can't help but browse through all the pretty office accessories. There are just too many to choose from! ​It's important to note here, however, that you need to make sure the space is actually functional. If you fill it with all the trinkets you come across, you won't be able to concentrate. Some creative geniuses – like Mark Twain and Albert Einstein – have boasted that a messy desk was the key to their success.
"[Get] rid of the things that aren't helping you."
But, according to Fast Company, clutter is only beneficial to you if it serves a purpose. The source interviewed Brooks Palmer, author of "Clutter Busting: Letting Go of What's Holding You Back," and explained that a detox from things you don't need is good for you.
"When you get rid of the clutter—the things that aren't serving you—yes, the place looks good, but you also feel better because you're getting rid of the things that aren't helping you," Palmer said.
As mentioned earlier, you want your workspace to reflect your personality and your business, emphasized Entrepreneur. It should be an area that you're excited to go to every morning – a reason to get out of bed, if you will. Decorating Den Interiors personal designers can come to your home and give you a free consultation so you can customize your pieces. You need your designer on board to make sure you don't go overboard with decor and stay on budget.
Do: Make sure you get the lighting just right
Lauren Conrad's style blog noted that you should be trying to get as much natural light into your office as possible. Fine print and blue light emitted from the computer screen are total eye sores, so it'll help to have some natural light to balance those out. Plus, who wouldn't want a little view? Even if it's just your backyard, it's nice to be able to look up and get some inspiration from somewhere other than your computer screen. But if your space lacks natural light, then you'll need to find your perfect lamp. No detail is too small in your office, so even your lighting should be as functional as it is decorative. Decorating Den Interiors personal designers will help you pick out professional, yet stylish lighting that matches your credenza.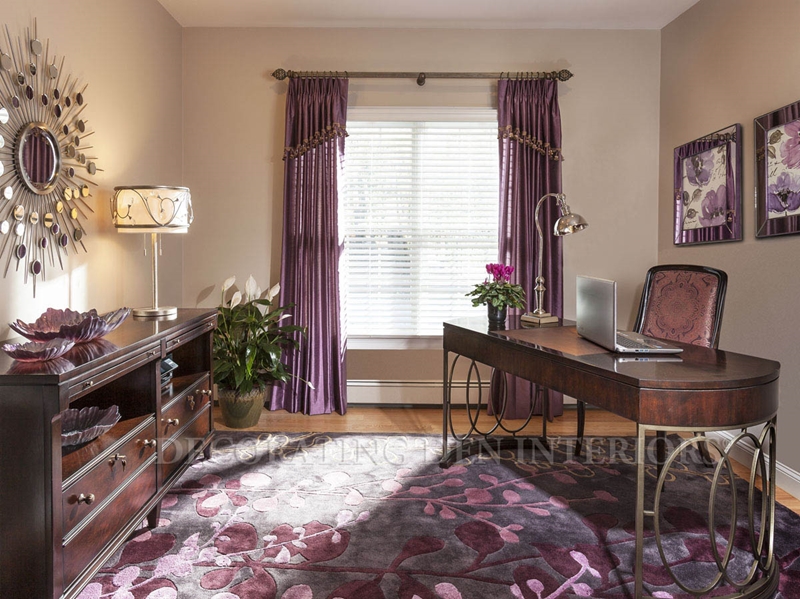 Do not: Bring work into the bedroom
Your home office and your bedroom are two separate entities. One space is dedicated to challenging your mind, whereas the other is meant for resting it. If you bring work into the bedroom you're going to invite that inevitable stress with you as well. A spare room is probably your best bet for a home office – but you can make the most of any nook around the house if all your rooms are claimed. You can spruce any work station up with some floating shelves, upholstered chair and throw rug. If you lack the eye for an area you could take over, don't worry, your personal decorator can give you a couple of recommendations.
Do not: Disregard color
Color absolutely matters. When you have to spend a ton of time in one place, you don't want to be surrounded by boring beige – it could actually start to impact your work. Forbes explained that fresh paint is one of the most effective changes you can make to your space, and it actually has the power to impact your business decisions and creativity. According to the source, your body actually responds to color on a psychological color, so you have to pick wisely. For example, red is a fairly aggressive color and has the ability to increase your heart rate. Blue however, has the exact opposite effect. Everyone has their own power colors, so it's just a matter of your preference – consult with your Decorating Den Interiors designer to learn what yours is.
Do: Mix up the furniture 
You don't have to abide by the traditional cookie cutter office look. Real Simple explained that "double-duty decorating" is a trendy way to repurpose furniture selections. Instead of  working at a desk, why not opt for a credenza for some chic flare? Decorating Den Interiors offers a wide selection of unique desk options and your personal designer will be there with you along the way to help you pick out the perfect piece. And of course, stay perfectly organized with an accompanying bookshelf.
That being said, your seating will be incredibly important as well, nothing is a worse distraction than discomfort from bad seating. Decorating Den Interiors offers a variety of ergonomic desk chairs, as well as stylish and comfortable perches for your guests or clients – or just for yourself if you need a change of scenery.