Foolproof tips for organizing your closet and keeping it clean
There's nothing more exhausting than shifting through a disastrous closet in the morning. When was the last time you put it in order? Organizing this space will not only make it look and feel better, it'll clear your mind and make navigating through your belongings as simple as can be.
Need help deciding which moves will organize your closet best? Just reach out to a Decorating Den Interiors personal decorator. He or she can advise you with the following tips and tricks:
1. Clear out the space and declutter
First things first: You need to empty its contents and purge what doesn't belong. Those scarves, hats and sweaters you've been holding on to for years? They've got to go. Another good rule of thumb: If you can't remember the last time you wore the garment, it's time to donate it to charity.
2. Install a shelving unit
Before you throw everything back into the closet, it's time to reconsider how well you're utilizing the space. Are you using it to its best ability? Maybe it's missing some structure. If you're lacking shelves and dividers, you should consider installing a customized closet or shelving unit. Go all out and let a Decorating Den Interiors design professional show you how to completely transform your closet from the place you dread to the space you love.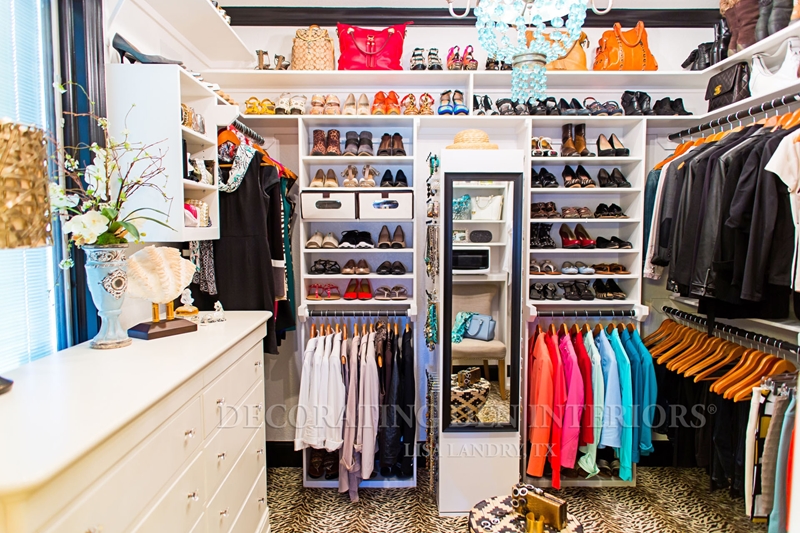 3. Make use of the empty wall space
If you have leftover space after installing the shelving unit, consider how you can make the most of it. Forbes said bare walls are perfect for towel bars, hooks or dowels, which makes it the prime place to put your ties, hats and scarves on display.
4. Invest in new lighting
You're not going to find anything in your closet if the lighting isn't good enough. Talk to your design consultant about investing in a new lighting fixture that'll maximize your visibility while keeping the space chic and stylish. Perhaps a modern chandelier will look best, or a standing lamp in the corner.
"A nice set of sturdy hangers can go a long way."
5. Use sturdy, matching hangers
A nice set of sturdy hangers can go a long way. When they're all the same size and color, navigating through your clothes will be much easier. Not to mention how much more uniform and organized it'll look – uncoordinated hangers have the tendency to give off a chaotic feel.
6. Get your shoes in order
In the past, your shoes took up the bulk of your floor, but those days are over. Real Simple magazine suggested placing a traditional hanging shoe organizer right next to your wardrobe. Or, if you still want to utilize your floor space, just maximize it with tiered shelves.
7. Use the top shelf and make it accessible
The top shelf offers ample space for storage, but it's not going to mean much to you if it's out of reach. Talk to your personal decorator about the best way to use this space, and then invest in an accessory that gives you access to the area whenever necessary. A modern chest that sits under your wardrobe can be pulled out and used as a step stool – making it functional in more ways than one.
Organizing your closet will help you let out of that sigh of sweet relief and satisfaction you've been craving. If you're ready to get started, it's time to get in touch with a design consultant from Decorating Den Interiors and schedule your free in-home consultation. With his or her help, you can declutter and make sure your space stays organized for months to come.