Game day: 4 ways to get your family room ready for the football season
Football season has officially arrived. It's time to retreat to the family room on Sunday afternoon with friends and family to root for the home team and devour delicious homemade appetizers. Whether you get into the game every week, or you're just there for the social interaction, football season offers the perfect opportunity to gather together and catch up.
Before you make any Sunday plans, however, you need to assess your family room and adjust seating and lighting accordingly to accommodate your guests. It's not too late to contact a Decorating Den Interiors personal decorator – he or she can come over in the nick of time to help you prepare for the next big game day.
Here are a few ways to prepare your family room for future football get-togethers:
1. Allow for steady traffic flow
If you plan on turning your home into the ideal viewing space for Sunday football, that means your invite list will likely be hefty. To ensure your space doesn't cramp guests, talk to your personal decorator about arranging the furniture in a way that creates a steady flow of traffic. He or she will lay out your space to maximize comfort, style and functionality in equal measure.
2. Consider new seating arrangements
There's nothing more embarrassing than hosting a party without considering the amount of seating you'll need to accommodate your guests. A large sofa and one chair in the family room isn't going to cut it. Investing in more chairs, and possibly even a sectional, is a smart decision and can prepare you for parties in the future.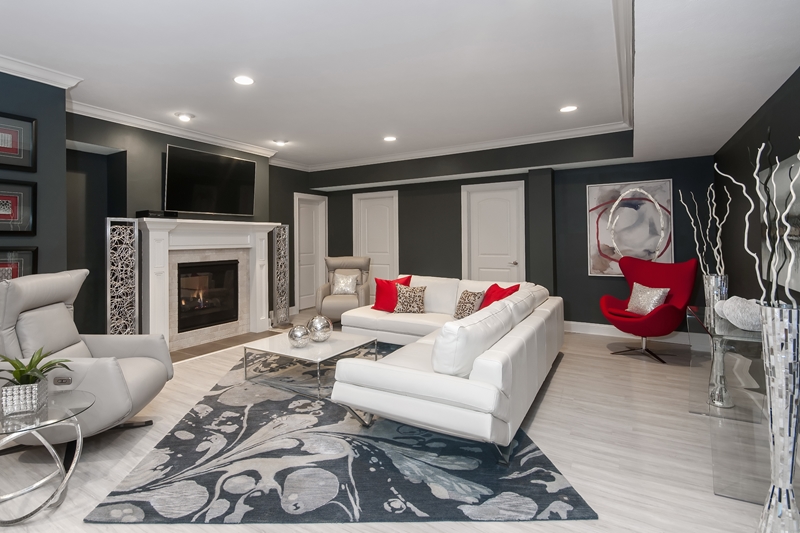 3. Light the room accordingly
Depending on what time of day your home team plays, you'll need to adjust lighting in the room accordingly. If you plan on watching football in the early afternoon, make use of the natural lighting in the family room, or light a few tableside lamps. If your team is playing past sunset, make sure you have enough fixtures to keep the space well-lit for viewing.
4. Provide enough table surfaces
Some of your guests are looking forward to football, while others are strictly there for the snacks and beverages. Provide enough table surfaces to accommodate your friends and family from the time they arrive until the moment your home team scores the winning touchdown.
Once you've decided what adjustments need to be made in your family room,  contact a design consultant from Decorating Den Interiors. He or she will come to your home, assess the space and go over your ideas for transforming the room. Based on what you've envisioned, your personal decorator will provided suggestions and help you turn your space into the ideal retreat for Sunday football.
So what are you waiting for? Don't hold off until the middle of the season to redecorate. Contact a design consultant from Decorating Den Interiors today!