Getting your family room ready to host the big game
Baseball teams are gearing up for their playoff pushes. Football teams are starting to come together and the Olympics are right around the corner. Whichever your sport of choice, you'll have ample opportunity to get together with friends and family to tune in. Even if you're more interested in camaraderie and delicious snacks than the feats of athletic exertion, it's fun just to be around people you care about.
Of course, doing this successfully requires decorating your family room so that everybody can gather and feel comfortable. You need just the right seating, enough lighting and a welcoming atmosphere. Here are a few tips for getting your family room ready for everybody to watch the big game together.
Start with the seating
If it's just you and maybe one other person, you can get away with nothing more than a couch. Once you start adding guests into the mix, however, things get a little bit more tricky. You'll want to make the TV the focal point of the furniture arrangement, so make sure every seat has a good view of the action. As the sofa will likely be the biggest seating area in the room, set it up directly parallel from the television. Then, add in chairs on either side of it. Consider arranging at least one group of chairs that allows people who might not be watching to have quiet conversations.
If space permits, a sectional is a great way to combine versatility and relaxation. These pieces are easy to re-arrange when needed, making it a cinch to go from family night to game day.
With larger rooms, you might want to consider creating two separate areas: One for people who are super interested in sports, and another for those who are more into the conversational aspect of the gathering. Set up a few chairs in a circular arrangement, which makes it easy for those individuals to feel included, even if they don't know the score. Use the table of snacks as a divider, and ensure that everyone is well-fed.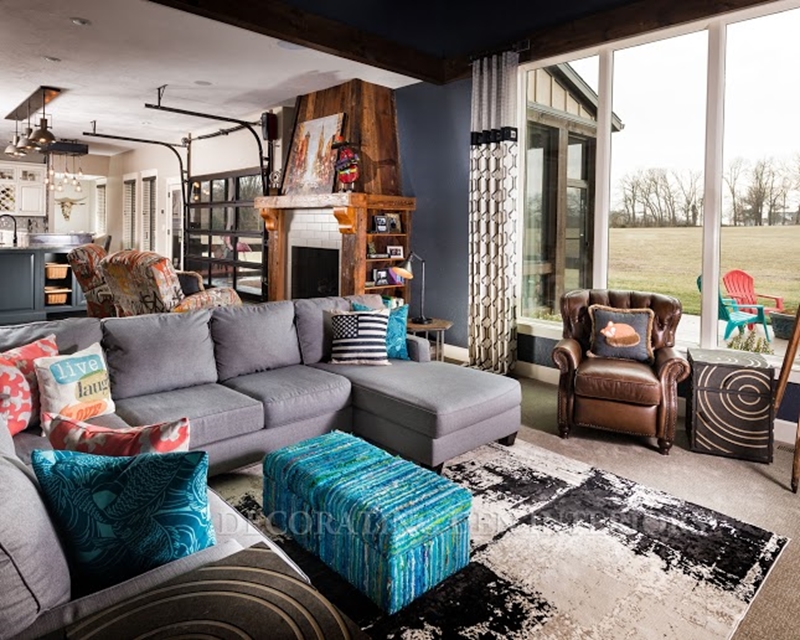 Make sure the lighting is flexible
When it comes to entertaining, the more varieties of lighting you have, the better. You want it to be light enough that everybody can see each other, but not so much that it feels harsh or abrasive. Having a few lamps around the room gives you a good deal of flexibility. For example, a floor lamp in one corner, a couple of table lamps scattered around the room and a dimmer on the overhead light will allow you to create whatever ambiance works best for you.
Create walkways
Whether it's to take a phone call, use the bathroom or simply stretch their legs, people are going to be getting up and down quite a bit. Anticipate this by designing a room that is easy to navigate, with clear paths to the doors. This way, a single person getting up doesn't interrupt everybody else, and the flow of movement is completely natural.
Have questions about creating a space that has ample seating but is also easy to get around in? Not to worry – Decorating Den Interiors can help you lay out your family room for maximum aesthetic value and functionality.
Don't forget about the side tables
In addition to a coffee table, you're going to want a number of side tables. Not only do they add character to a family room, they're also quite useful. People need a place to set down their drinks and plates, and doing so on the floor is a one way ticket to messes. You only have to try to clean guacamole out of a rug once before understanding just how handy it is to have enough surfaces to put things down on.
Invest in a beverage cart
Just because you're the host doesn't mean that you want to be getting up and down to serve people drinks all the time. When you have a beverage cart, you don't have to. It's an easy way to make sure everybody's glasses stay filled, without you being the one to have to do it every time. Nobody has to make the trek to the kitchen every time they're thirsty, and you get to kick back and watch the game with everyone else.
Consider comfort
You want your family room to look great, but you also want guests to feel comfortable and relaxed. Do both by providing plenty of throw pillows and unique accents around the room. These details can make a room inviting, while at the same time showing off your great sense of style. What's even better is that they're easy to customize for the season: Simply buy some high-quality pillow inserts, and you can change the covers to fit the event.
If you're ready to decorate a family room that people love spending time in, contact a personal decorator from Decorating Den Interiors. They'll be able to walk you through the entire process, and find you pieces that not only look great and fit your personal style, but also are functional and perfect for hosting.