Hallway Ideas to Level Up Your Home
Hallway Ideas to Level Up Your Home
Hallways are a pretty vital part of any home, but they can be an awkward space to decorate. Often, it can seem more important to decorate the living room or dining room — places where your family often congregates — which means that your hallways are often the most neglected part of your home.
When decorated, this overlooked section of your home can become a beautiful, welcoming place rather than a dark passage that you walk briskly through. Let's take a look at some hallway decor ideas to perk up your house's in-between spaces.
How to pick the perfect color for your hallway
The first thing to consider when refreshing your hallway is the paint color. Often, hallways can be dark due to their lack of windows or additional light fixtures to illuminate the space. That being said, it is a good idea to pick a lighter paint color to reflect light and help your hallways appear brighter.
Consider the rest of your home's design to find out what color would be beautiful and create consistency throughout the house. If you're looking to create a cool and relaxing hallway, go for a light blue-gray. For a warm and welcoming hallway, paint a cream or warmer gray hue. Let's say that you're a more traditional person; you can't go wrong with a taupe or light tan tint on your walls. Essentially, the important factor when choosing a paint color is to not go too bold or dark as this can lead to the hallway feeling tight and cramped.
Wallpaper can be a tricky addition to get right for a small space, but it can still be done. As previously mentioned, hallways have the tendency to be dark — an over-the-top wallpaper can add to the problem. Choose a wallpaper that has a white or light-colored background and is covered in a pattern that is intricate, but not in your face. For example, a cream-colored background with a pale, faintly patterned blue print would be beautiful in your home.
With the right colors picked, it's time for you to start decorating!
Hallway ideas for your space
Hallways come in all shapes and sizes, meaning that you have to work with the space that you have. You have the potential to completely transform your home's passageways with just a few changes or decor additions. Here are some hallway decorating ideas to inspire you: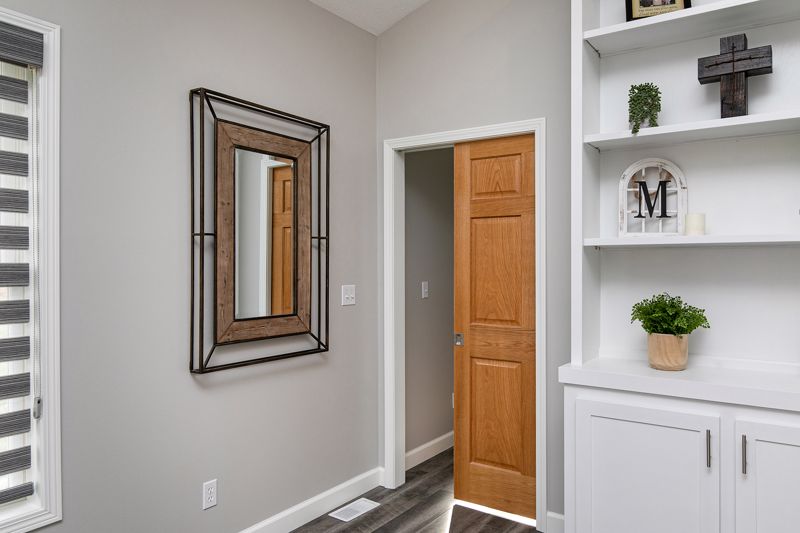 Reflect your space
It's a known fact that mirrors can make a room appear larger. It's the same for hallways. Hang a mirror either at the end of your hallway or in the middle of the wall and watch your space get visually larger. It's also a great method to quickly check your hair and makeup before dashing out the front door. Pick a neutral color to match the walls, or go bolder with a bright color.
Make room for sitting
This might not work for every hallway, but if you have the space to add a bench or stool, do it! Not only is this a wonderful spot to put on your shoes or sit and read, but it can make your home feel even more inviting. This design idea works great for the end of your hallway or along a more open section of the hall.
Create a gallery wall
If you're a fan of art museums or simply love the look of multiple prints, then incorporating a gallery wall in your hallway is a lively way to add extra interest to your space. Choose pictures, artwork or posters that work well together and hang them along the hall either lined up and symmetrical for a more clean-cut style, or hang your collection more randomly by mixing and matching sizes and colors.
Utilize storage
Who says style can't also be functional? If you're in need of extra storage space, kill two birds with one stone by adding a fashionable dresser or cubby space in your hallway. Not only could this serve as a great place for shoes, board games or outdoor gear, but it can be a focal point for the hallway and make the space more inviting.
Take a step towards comfort
If your home has hardwood floors, a long, narrow rug could make your hallway extra comfortable. There are many rug choices available to you, but choose one that can add a pop of color and harmonize with the other furniture surrounding the hall. Some popular colors for passageway carpets include maroon, olive or hunter green and deep blue.
Bring your books
A bookshelf might not always be found in a hallway, but that doesn't mean it can't be done. Find a beautiful, tall bookshelf to place at the end of your hall so you can view your favorite reading material when walking around your home. This can also be a great place for your children to keep their books to easily grab when leaving for school in the morning.
Your hallway does not have to be plain, dark and empty. Figure out what design ideas could work for your space by understanding how to work with every style of hallway, from the super skinny hall to the wide open passage.
Working with narrow and wide hallways
To achieve a beautifully designed hallway, you must know how to work with the space you've been given. Not every style will look perfect in your home, and that's okay! But, there are ways to maximize and level up your current hallway.
Tips for narrow hallways
For the tight, small hallway, follow these design tips to make it more versatile and appear larger:
Avoid bulky furniture: Since your space is a bit small, cumbersome pieces will make your hall seem even more cramped. Get thin, lightly built furniture to avoid this.
Add light: The more light your narrow hallway has, the larger it will feel. Include a lamp or an additional light fixture to brighten up the room.
Use horizontal lines: If picking wallpaper for your walls, choose a pattern that has horizontal lines which are known to make it look like a long hallway.
Hang large hallway decor: Make the walls feel wider than they are by picking colorful, oversized wall art or family photos for the middle of the hall.
Tips for wide hallways
Although wide hallways are more of a rarity, here are some good rules of thumb to use as a guide when decorating this type of hall:
Add furniture: Leaving a large hallway wide open can make the hall echo and feel empty. Follow the design ideas above to get some inspiration.
Use your green thumb: At the end of your wide hallway, put a house plant or tree to bring a pop of green.
Implement storage: Extra storage is always a good idea. Add low shelves to your hallway and watch your hallway become both stylish and functional.
Attach hooks: Forget a coat tree. Use your large hallway space as a catch-all for coats, scarves and other hangable winter gear.
Take the above tips to heart and ensure your hallway is welcoming rather than a place you'd like to steer clear of. With your hallway being so vital to your home's layout, avoid misusing the space or using design ideas that miss the mark.
Common hallway mistakes
With the small amount of space your hallway has, it can quickly become a cluttered and unwelcoming mess. Here are some common hallway mistakes to keep away from:
Too much clutter
Your hallway can be a great source of storage space, but it can all too easily become a dumping ground for everything: bags, coats and shoes. Use storage bins, wall hangers or a dresser to keep your items contained and out of the way.
Not enough lighting
To keep your hallway from resembling a dark and dingy cave, ensure there is ample lighting and refuse dark paint colors that can make the hall appear small and cramped.
Conflicting decorations
An eclectic taste is great when done tastefully. Too many style combinations can make the hallway feel hectic and it might give your guests a headache. Pay attention to your home's overall appearance and use your current design to inspire your hall style.
We want your hallway to be another section of your home that you fall in love with every time you walk through it. If you're looking for a hallway refresh but don't know where to start, Decorating Den Interiors is here to help!
To get started with your hallway makeover, you'll be paired up with a personal decorator who will get to know you and your personal style. They will visit your home and take a look at the hallway that you're hoping to give new life. After your interior designer understands your hopes for the project, they'll draw out a plan to make it happen. You won't have to worry about a single thing except enjoying the end result.
We can't wait to work with you! Contact us today to begin. For more home decor inspiration, read more blog articles just like this.