How to bring a room together when it feels like it's missing something
A room in your home can be full of furniture and still feel incomplete. It's simple to get caught up in filling the space and forget to pay attention to the fine details that bring everything together.
But filling that void doesn't have to be difficult. Just get in touch with a Decorating Den Interiors personal decorator for some insight on the following tips:
1. Add a splash of color
There's nothing wrong with neutral décor. A living room that's filled with warm tones of brown, tan and driftwood is cozy and inviting. But it can also feel dull without a splash of color. To knock the perception, Apartment Therapy suggested adding subtle accents throughout the space. Shades like frosted blue or leaf green complement neutral tones well, so consider these hues for your drapery, throw pillows or other home accessories.
2. Throw down an area rug
Take a look at your floors. Do they seem bare? It's nothing an area rug can't fix. And this doesn't only apply to hardwood flooring – your carpets can benefit from a rug, too. This is one of the easiest ways to add depth to your space. By placing a floor covering in the middle of the room, you can bring those staple pieces of furniture together and make the space more cohesive.
3.  Place throw pillows on the furniture
Throw pillows make a comforting statement on any piece of furniture. And they don't have to match in order to bring the room together – be creative. Real Simple magazine recommended choosing mismatched colors, shapes and textures to give your living room character. Just be sure to keep your overall color palette in mind to avoid creating visual chaos.
4. Bring your walls to life
Adding color to your walls isn't the only way to bring them to life. You have other options! Consider an accent wall with decorative wallpaper, or create your own gallery by hanging your favorite pieces of art. Much like the throw pillows, this photo wall doesn't have to be uniform – you can hang frames of all shapes and sizes as long as you can find a way to streamline the arrangement.
5. Hang drapery of the proper length
Dressing your windows in the perfect drapery will bring your space together, but you need to choose wisely. It's all about picking the right length. Long window treatments allow your eyes to adjust from the walls to floor with ease. Short shades that stop at the foot of the window may seem like the right choice, but it can make or break the flow of your entire room.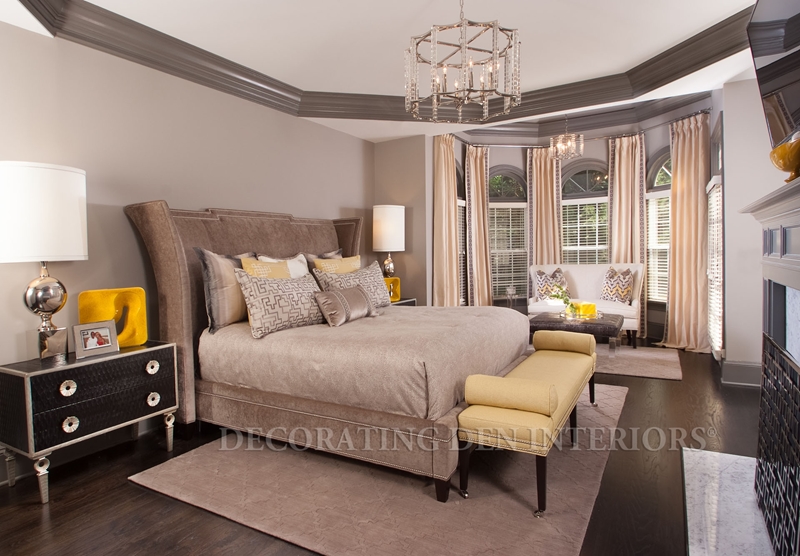 6.  Keep your bookshelves in order
Unorganized bookshelves will only make your rooms seem chaotic. Bring your space together by shaping up those shelves of yours. Maybe you'll organize your books by color, shape and size. Or, perhaps you'll make it much more than a book shelf – weighing your novels and magazines down with decorative accessories adds a diverse yet constructed touch to the system.
7. Perfect your lighting
Proper lighting is crucial, no matter what room you're in. Choose fixtures that can bring your rooms together with ease. A chandelier above the dining table makes a sophisticated statement, while dim-lit floor lamps can make your living room as comfortable as can be.
See? Making your rooms more cohesive is easy. It's all about fine tuning simple details. If you're ready to give you space some attention, just reach out to a design consultant from Decorating Den Interiors and book your free in-home consultation. He or she will help you incorporate these tips into your design scheme to create a room that's cozy and inviting.