How to choose a color scheme for your home office
Today, having a home office is just as essential as having a living room space for most working individuals. Whether it's a separate area that's closed off from the rest of the house, or a space that's carved out of an existing room, those who work or study from home deserve a workspace to call their own. Working at the kitchen table while your kids learn remotely isn't always going to spark creativity and productivity; you need to establish a specific location to complete your work.
Once you've settled into your home office environment, decorating your workspace in a way that's motivational and free of distractions is a must. Accessories, decor and furniture are a few ways you can express your personality and meet your workspace needs, but the paint and accent colors can set the foundation you need to succeed.
Here are a few tips for picking the best color scheme and lighting options for your home office:
Which color scheme is right for me?
Finding a new arrangement of colors is not a one-size-fits-all deal. One person might thrive in a room filled with bright, bold hues, while another might find it more distracting than inspiring. Personal style isn't the only factor that plays a major role in choosing a color scheme; the type of work you do or the way you use the home office can also be a determining factor in your color choice.
Neutral hues: One simple way to make concentration the top priority in the home office is with neutral tones. Shades of gray, beige and white can paint a clean slate in your work space, allowing your head space to focus solely on your work.
Bright and lively colors: If you feel that your workspace needs a boost of color as a means of inspiring you throughout the day, brighter, yet subtle shades like blush or coral can bring some personality to the room. Even if you don't want to go full force with these colors, you may consider an accent wall instead.
Saturated dark pigments: While the home office is generally associated with light shades, darker, saturated colors can be freeing for your creative side, as designer Keita Turner told Elle Decor.
"[This] deep, dark green, in either a matte or satin finish, will bring a dramatic mood to any home office," she shared. "It is a true Renaissance color! The rich, saturated pigments respond extremely well to all types of light and remarkably emerge much greener than on the color card. Since green is the color of growth, life, and renewal, an office clad in this hue will promote calmness, harmony, a strong sense of balance, reassurance, safety, and productivity."
All in all, we recommend that you don't stray too far away from the rest of the colors in your home. Your office shouldn't stick out like a sore thumb — it can have it's own personality in some form, but it should flow with the rest of your home stylistically.
How important is lighting?
Lighting is everything in the home office. When you're constantly attending Zoom meetings or taking on art and design work, perfecting the lighting is a must. It allows you to pay as close attention to detail as possible and appear as lively as ever via webcam.
If natural lighting works in your favor in your office space, take advantage of it. Otherwise, consider overhead lighting or desk lamps that can help you maximize your workspace with ease.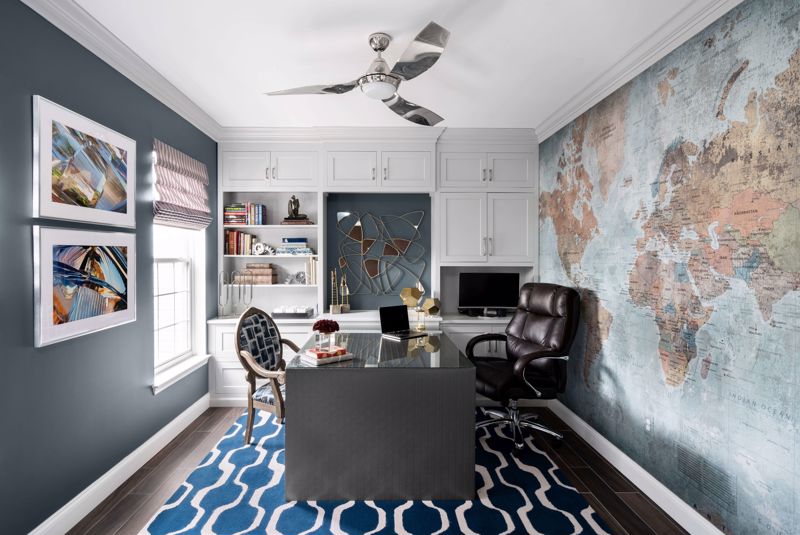 How can I complete my home office project in a timely manner?
If you've been thinking about revamping your home office for months but you're overwhelmed by the thought of completing the project on your own, a personal decorator from Decorating Den Interiors can assist.
He or she can provide a free consultation to discuss what you're expecting to get out of your home office after changing the color scheme — your design consultant can give a detailed recommendation for specific hues to use in your work space based on your bottom line wants and needs. After the initial discussion, the decorator will curate a tailored plan that turns your home office into the room of inspiration you've been looking for.
Are you ready to make some changes? Start 2021 on the right foot by calling Decorating Den Interiors today.