How to decorate your bedroom based on your personality
It's easy to design a bedroom that looks like it's straight out of a catalog. But does that truly showcase your personality? Or is it just a room you copied because you were feeling uninspired?
Regardless of the reason, your bedroom should be your personal sanctuary. The place you can run to for comfort and tranquility. In order to make it as cozy as can be, you need to decorate in a way that illustrates your character. When someone sees your room, he or she should be able to pick it out before you tell them it's yours. When they say, "that is so you" you know you hit it.
Redecorating your bedroom so that it fits your style to a T doesn't have to be difficult. With the help from a Decorating Den Interiors decorator, you can create the sanctuary of your dreams with ease. Following these tips, he or she can help you decide how to best utilize the space: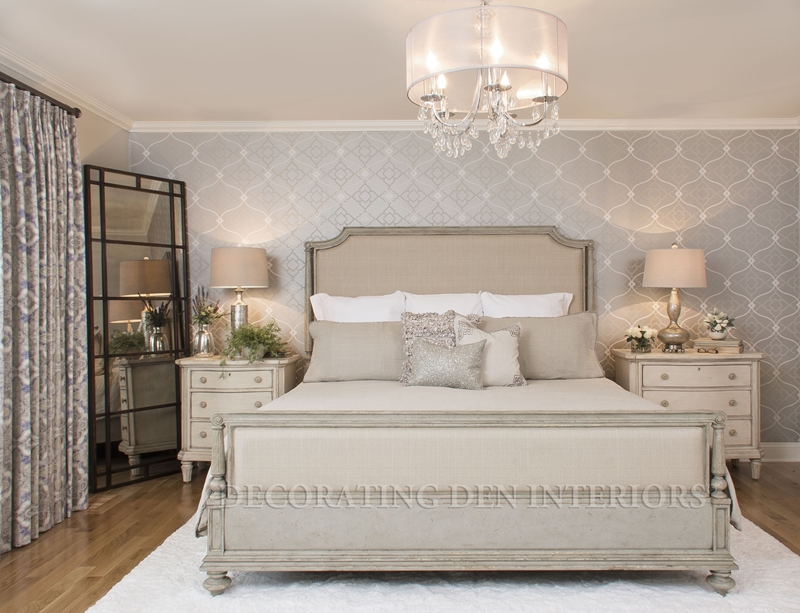 The walls
How long have you been living with those dreary, white walls? One of the easiest ways to personalize your bedroom is by painting your walls in a hue that you love. However, you shouldn't just consider paint – consider wallpaper that will complement or highlight your furniture and pieces of décor best.
Beyond the shade of the walls, how are you going to keep them from looking boring and empty? We suggest creating a personalized art gallery, but be sure to invest in at least one, large bold statement piece. This will act as one of the focal points of your bedroom, so it needs to identify well with your personality.
"You can never have enough storage in the bedroom."
In order to utilize your space to the best of your ability, you may even consider investing in a new dresser to coordinate with the bed and fit all your clothes. Your personal design consultant can take room measurements and help you explore your options based on your space, style and budget.
The furniture
Choose furniture that'll complement the wall color – not stand out and look misplaced. Based on your personality and lifestyle, you may choose to place a completely new piece of furniture in your room for relaxation, such as a chaise lounge paired with a small table for your favorite book.
Your individual taste may also inspire you to choose a new style of furniture. If you're into modern chic décor, you might like pieces with sleek lines and bold, vibrant colors. If you're not sure about which furniture pieces would work best, have a simple conversation with your interior decorator. He or she can develop a design plan based on what you're passionate about in life.
No matter how you choose to reinvent your bedroom, your space will look best with help from a Decorating Den Interiors design consultant. He or she will come to your home for a free consultation and give expert advice on how you can makeover your personal haven.