How to design a bedroom for multiple children
You might wind up having to sleep two kids or grandkids per bedroom at some point, particularly in your vacation home. However, having multiple children share a room doesn't have to be a catastrophe. With a little creativity and the help of an interior decorator company like Decorating Den Interiors, you can get the most out of any space, no matter how many little ones share it. Here are a few things to keep in mind that'll make cohabitation a little bit easier:
Start with the beds
As the beds will likely be the largest pieces of furniture in the room, they'll have a big impact over how you arrange everything else. When it comes to multiple children, you have a number of options. Of course, you can put them side by side, but you can also buy bunk beds or Murphy beds if space is a consideration. Each choice has its advantages – adjacent beds help open up the middle of the floor for activities, while lofted or bunked beds add an element of fun for older kids. Keep in mind that if children are separated by a few years in age, they might not go to bed at the same time, so make sure your sleeping situation allows for staggered bedtimes.
Install a pocket door
Especially as they get older, your children might want to have a little more privacy. In the absence of a second bedroom, a pocket door is a perfect compromise. They can slide right into the middle of the room, creating a barrier that can be taken in or out as necessary, making them one of the more flexible interior design choices. They're also a good way to add a novel textural element into a space, without changing the overall aesthetic of the room.
Make sure there is plenty of storage
Even one kid is more than capable of making a mess, so when two are sharing the same space, it's even more important to stay organized. Keep everybody on track by equipping the room with plenty of storage solutions: Baskets or containers should be clearly labeled based on what should go inside. Each child should know exactly where everything is kept, which cuts down on arguments and makes cohabitation more harmonious.
Use accents for bursts of color
As children grow up, their tastes change. It's perfectly natural that your little one won't want the same bedroom design at age 5 as they will at age 9. However, you don't need to perform a complete renovation every time your kid develops a new interest. Use neutral paint and furniture to begin the room, and then turn to accents and accessories to add bursts of color. This way, you don't have to paint and re-paint the room, and it's easy to update the feel.
Make decisions together
Kids like to feel included, so allow them to make some of the choices for the room. After you meet with your local interior decorator, choose a few themes that are within your budget and fit in with the rest of your vision. Then, let your children make the final call, together. It's a good time for them to learn about the benefits of compromise, and they'll be much happier knowing that they had some level of ownership over the design of their space.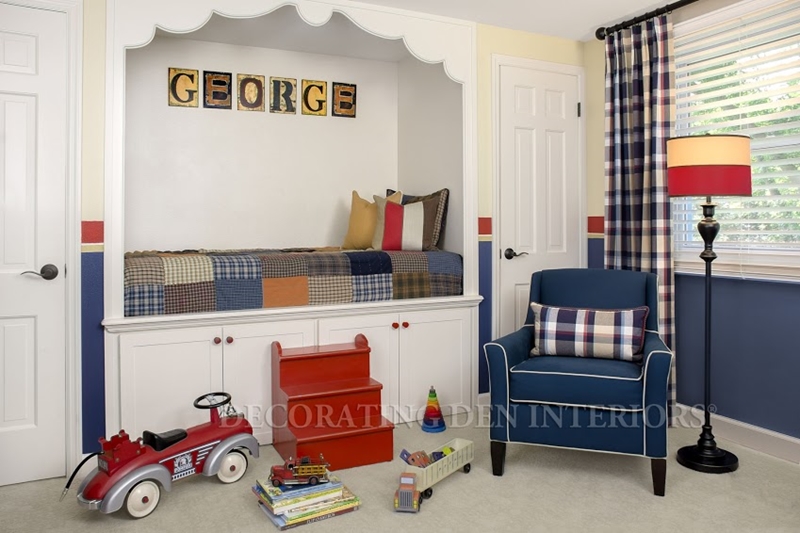 Add some personal touches
When a child has to share a room with a sibling, he can start to feel like he doesn't really have a space of his own within the house. You can ward off these feelings by adding personalized touches throughout the room, such as monogrammed pillows, or a chest that features his favorite animal painted on the outside. Hang up artwork drawn by both children, so they each understand that even though they are sharing a room, they also have their own individual stakes in the living area. Dr. Susan Bartell, a child psychologist and mother of three, explained to Real Simple just how important this can be. "Each child should have a little space of his or her own within the larger room," she said, pointing out that it could be as small as separate drawers or as large as individual night tables, depending on how much space is in the room.
Sharing a bedroom doesn't have to be a hassle, and can even bring siblings together. If you're in a position where it's the right choice for your family, look into Decorating Den Interior's interior decorator services.