How to design an inviting dining room for Thanksgiving
Thanksgiving is only a few weeks away. It's time to invite your loved ones into your home, give thanks and show appreciation for each other, and enjoy the holiday feast. But before you welcome your family and friends in with open arms, you'll want to design and decorate a dining room that's equally inviting. Because beyond the satisfaction you get after eating the turkey and stuffing, the room you're enjoying it in should also leave a comforting imprint on the get-together.
If you feel like your dining room could use a revamp before the holiday season, just get in touch with a Decorating Den Interiors personal decorator. He or she can help you construct a warm and welcoming atmosphere in your home for Thanksgiving:
Lay out a cozy rug
What better way to add comfort to your space than with a plush area rug? Floor coverings really have a way of bringing a room together, which makes it extremely inviting. There are plenty of shapes, colors and textures you can choose based on the design scheme you're trying to follow, but stay strict with size. A large area rug that covers majority of the floor makes a warm statement. If you'd rather showcase more of your hardwood flooring, just choose a rug that fits the area of the table and chairs.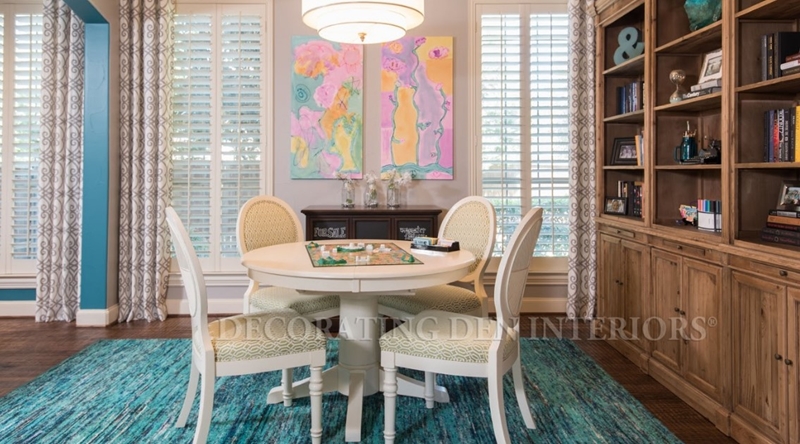 Exchange the old dining room table
The table is the focal point of the dining room. While some people find comfort in antique pieces, it may be time to exchange yours for something more modern and up-to-date. Homedit suggested investing in a unique table to make an unforgettable statement. Besides, Thanksgiving is the perfect opportunity to intrigue your guests and show off a stylish and functional new piece of furniture in your home.
Decorate with warm colors
There's something ever-so-inviting about the perfect color scheme. Warm hues like orange, brown and red have a calming effect, as long as the shades are soft. Bold hues like bright green and purple may give off a less tranquil vibe and more distracting one. When you set the dining room table, decorate with a soothing color palate. Your napkins, tablecloth, centerpiece and other décor should exude that inviting, tranquil tone you're going for.
Bring the walls to life
Your walls offer ample space to give your home a touch of personalization. So why not spruce things up this holiday season? Invest in a festive piece of art that showcases a gourd or depicts a Christmas scene. This is a great way to get every one in the holiday spirit.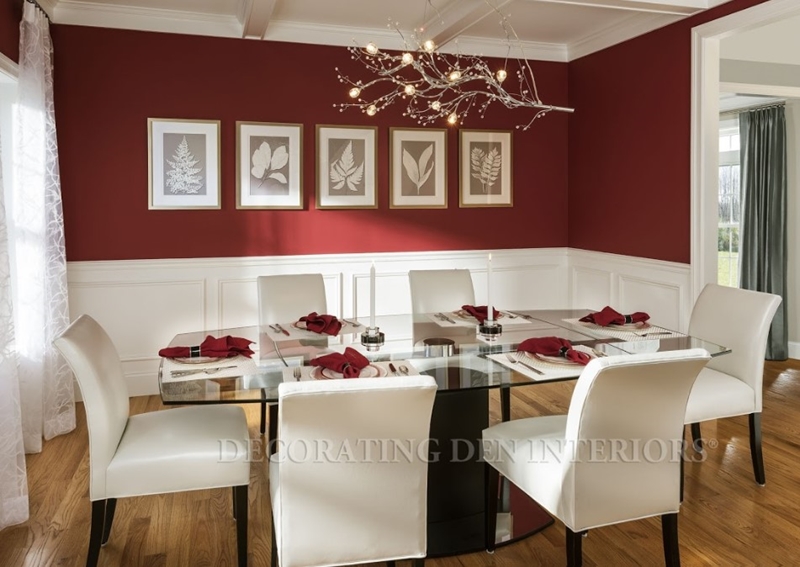 Or, you can spruce up a wall with decorative wallpaper. It's a practical and durable option that can make an intriguing design statement in your dining room.
Dress the windows in rich drapery
Just like the walls and décor, your windows deserve some attention this holiday season. Choosing the right shade of drapery can perfect the lighting in the room and set the tone for the dinner. Houzz also recommended choosing thick, layered window coverings so you can modify the acoustics and create a warm, welcoming atmosphere.
An inviting dining room is key throughout the holidays and beyond. If you're ready to give your home a face lift, just contact a design consultant from Decorating Den Interiors and book your free in-home consultation. He or she can help you come up with a plan that fits your needs and wants in the design scheme.