How to disguise the eye sores around your home
Decorating your home can be such a surreal experience once it's completely put together. The feeling that comes over you can be satisfying — you've created a space that emphasizes your personal style while maximizing your comfort. From the furnishing choices and color schemes to the pillows, blankets and other accents, there are so many important elements that come together to make your home whole.
When you're first putting this space together, however, you may find that there are a few eyesores throughout your house that are making it difficult to achieve the look you're going for — maybe it's a phone jack, an old radiator or a mark in the carpet that won't come up. Thankfully, with the right decorative approach and simple techniques, you can hide these things with ease and finally make your living space feel like home.
Here's how you can disguise common eyesores around the house:
1. Place a decorative canvas over the phone jack
The most common place to find a phone jack in the home is in the kitchen — of course, one of the high-traffic areas in your home that guests and family members gather on a regular basis. Instead of pretending like the phone jack doesn't exist, it's time to cover it up! Something as simple as an art canvas can be placed right on top of the phone jack and style up your kitchen with ease.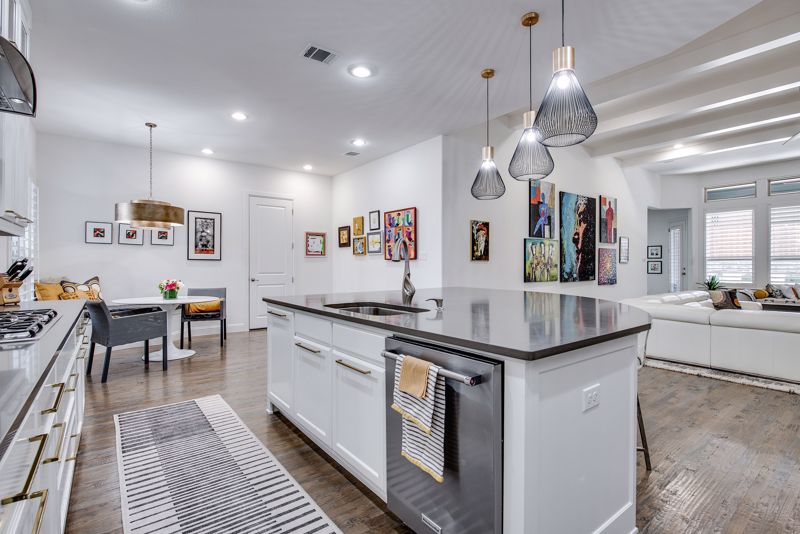 2. Hang a window treatment over the water heater
Sometimes, the water heater is located in less-than-convenient spaces, such as the main bathroom. Instead of making your guests stare at this eyesore everything they go to freshen up, install a decorative window treatment that hangs perfectly in front of the water heater.
3. Lay a large area rug over an unsightly flooring
Dated carpeting or flooring is such an obvious eyesore, and unfortunately, it can make you feel negative about your living space, even when the rest of the room looks perfect. If you have plans to install new carpeting or different flooring in the future but need a quick fix in the meantime, a large decorative area rug can do the trick. This can hide a majority of the foundation and can completely transform the room.
4. Use a vase of flowers to cover cords from a mounted television
Mounted flat-screen TVs are trendy, and it's not likely that this will go out of style any time soon. But if you haven't committed to in-wall cables, you may find yourself constantly staring at the cords on the wall underneath the television set. To hide these unsightly wires, we suggest a large bouquet of fresh flowers directly in front of them. Not only does it make a great disguise, but it also adds a lively, fresh element to popular gathering space.
Let an expert take care of the eyesores
Getting rid of the unattractive points in your home can be an annoying task, especially if you're not sure of how to incorporate your current style into the coverup. If you're struggling to achieve the look you want to achieve, you can benefit from expert assistance from a personal decorator at Decorating Den Interiors.
One of our design consultants will come to your home to provide a complimentary consultation to start the journey to your home makeover. At this time, they will get to know you and better understand your personal style preferences and how they can align with your end goals for sprucing up your space. Then, your decorator will devise a plan to cover up the eyesores without compromising the look and feel of your home.
Once the plans are finalized, your personal decorator will take care of all of the work — ordering all of the decor and accessories and placing them strategically around your home to achieve the ideal look and feel. All you have to do is sit back, relax and watch the eyesores disappear.
So what are you waiting for? We're excited to help you say goodbye to those bothersome, outdated elements in your home for good. Contact Decorating Den Interiors today to get started!