How to host the best NYE party in your kitchen
With New Year's Eve just around the corner, now's the perfect time to start planning the party. Your kitchen needs to be ready to accommodate a big – or small – group of people, depending on the size of the soiree, and it needs to do so in style. You want to make it a night to remember for all of your guests, and that starts with crossing the t's and dotting the i's of party preparation.
To ensure your family and friends have a blast from the moment they arrive, to the minute the ball drops and beyond, consider these tips:
1. Make sure there's an area for coats
Don't turn one of your chairs into a designated disaster area for jackets. Instead, clear out a coat closet or rack to accommodate all of your guests. Take things up a notch and trade a coat for a drink the second they walk through the door, as suggested by lifestyle expert Jung Lee.
"Clear out a coat closet or rack to accommodate your guests."
"I want guests to feel really welcomed and comfortable, especially when they first come in," she shared with InStyle magazine. "Take their coat and make sure they have a beverage in hand immediately."
2. Set the tone with the right lighting
Perfect the atmosphere by blending accent features into your normal lighting setup. This can help set the tone throughout the night, especially when it's time to count down to the new year. We suggest installing dimmers to your fixtures to utilize during this point of the night.
3. Create a cocktail cart
What's a New Year's Eve party without some festive cocktails? Avoid making a mess in your kitchen by creating a cute cocktail cart. Arrange a set of nice glasses, liquors and mixers to accommodate your guests. You can play bartender, or have your friends and family serve themselves.
And don't forget about food! Offer hors d'oeuvres throughout the night to keep your guests from getting hungry – especially if they plan to indulge in cocktails.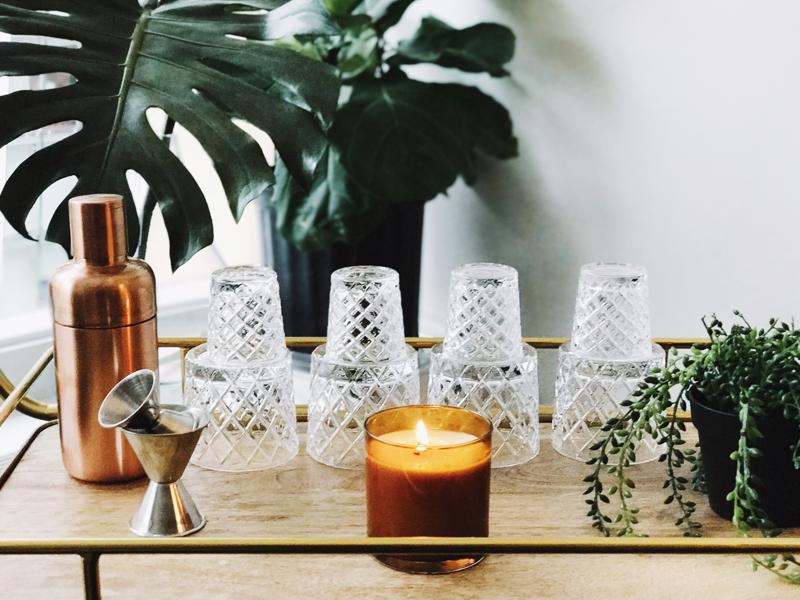 4. Curate a playlist based on everyone's music taste
When you send out your invitations, be sure to include a music request card that your guests can return to you with their RSVP. Then, curate a party playlist based on the responses! This ensures that you're catering to everyone's music taste throughout the night.
While you can certainly take care of the music, food and cocktails, you might need help when it comes to decor. A personal decorator from Decorating Den Interiors can help turn your kitchen into a sophisticated New Year's Eve party space that's begging you to pop some bottles of champagne! He or she will come to your home for a free consultation and provide tips and suggestions based on exactly what you're looking for.
Don't hesitate to call a design consultant today – NYE will be here before you know it!