How to make the most of your children's bedroom
Decorating your children's bedroom can be one of the more difficult areas in the house to tackle. You have to come up with a design scheme that your child can enjoy – and not outgrow within a year. It's important to ensure the room maintains maturity, prioritizes functionality and displays serious style and personality for your young one.
It sounds simple when you put it on paper, but you may need a little assistance coming up with a theme and executing it correctly. With help from a Decorating Den Interiors design consultant, you can create the room of your child's dreams.
Ready to get started? Here are a few tips that can get your creative juices flowing as you brainstorm the design of your children's new bedroom:
1. Ask your child for input
Before you call your design consultant and start tearing apart the room, ask your child for input on how he or she would like to see the room transform. Some guidance on your part may be required, but seek ideas from your child. This isn't your bedroom, after all. Give your child a chance to be creative and express his or her personality through colors, decorations and furniture styles. Remember: This bedroom needs to age with your child. This is where the help from a personal decorator comes in handy – he or she can help you make the right moves that can mature the room as your child grows older. For example, a neutral color palette can last longer than bold, bright neon shades that your girl or boy likes at the moment. The bright colors can be added in the form of accessories instead.Your personal decorator can come up with a solution that makes everyone happy.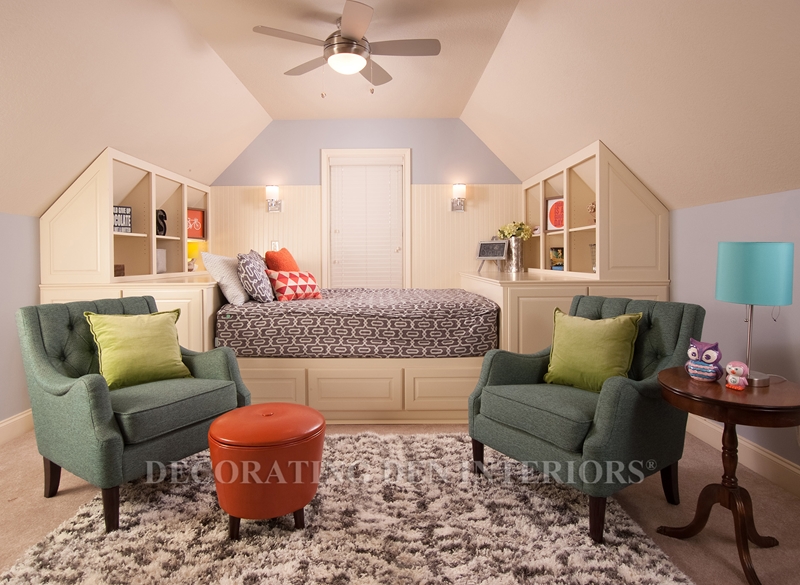 2. Choose simple decorations that can be easily exchanged
Once you've chosen a color scheme and theme, you'll likely want to utilize the walls for decorating. To keep the room from going out of style, make sure you're choosing simple decorations that can be easily exchanged. That way, the room can mature with your child.
3. Maximize space with multifunctional furniture
Children need space to move around and entertain friends in their bedroom, so you need to keep clutter at a minimum. The best way to ensure the space is utilized best? Choose multifunctional furniture. A bed with built-in drawers in the frame can replace a large dresser. Additionally, instead of taking up space with oversized bookcases, you can hang shelves on the walls.
Now that you have a better idea of what you need to get started, it's time to reach out to a Decorating Den Interiors personal decorator. With his or her help, you can create a bedroom your child will love to spend time in. Your design consultant will come to your home for a free consultation to evaluate the space and give you suggestions based off of the room. It's time to make your child's room the most fun, functional and stylish bedroom in the house!