How to position and style coffee tables and ottomans
People often pay close attention to the sofas, chairs and other seating arrangements in the living and family rooms, but what about the ottomans and coffee tables? Often overlooked, these pieces of furniture can help bring each space together, offering a place to set a morning cup of espresso or store cozy accessories like throw blankets and accent pillows.
If currently on the verge of rearranging or sprucing up your living space, consider paying closer attention to your coffee tables and ottomans. These pieces of furniture can add the touch of style and comfort that you've been craving.
Coffee tables
There's no getting around the fact that the coffee table belongs near furniture. After all, it's main objective is to offer convenience in holding beverages, books and gorgeous accessories to display in your living space. If you need help decorating the surface of your coffee table, consider the following tips by lifestyle blog Decorating Your Small Space:
Grab something square. To add foundation to your arrangement, use something square like a tray or book.
Add some height. Give your coffee table some height and dimension with a vase of flowers or candle sticks.
Give it some life. Add a plant or other natural accessory to make the space more lively.
Use different shapes. Add something round or of an irregular shape to grab attention.
Remember: You can always switch up the coffee table decor. Just keep these tips in mind when you're coming up with a new arrangement.
Ottomans
There's nothing quite like sitting back in your favorite chair after a long, busy day of work – but an ottoman to rest your feet would make this lounge space much more cozy and inviting. While usually used as a place to kick up your feet, ottomans aren't subject to that – you can use it for storage or even as a substitute for the coffee table if you want to take a non-traditional route.
"An ottoman is often an underappreciated living room staple," wrote Kristin Flanagan of Architectural Digest. "The piece of furniture is actually a multipurpose gem: It can be used as a cocktail table substitute, a decorative footstool for a sofa, or space-saving storage."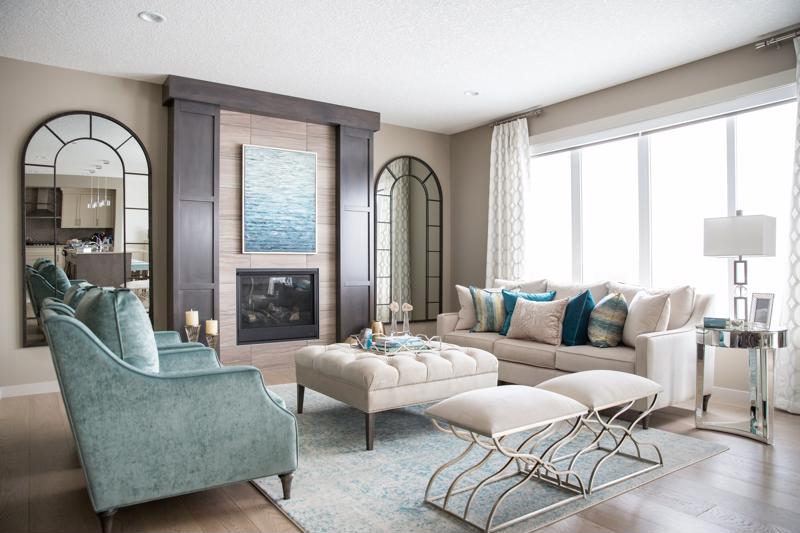 Placement of your ottoman should be based on how you plan on using it. Arrange this staple piece of furniture near your seated areas if you'll utilize the ottoman as a footrest. If you plan on using it to store living room accessories, the ottoman can go virtually anywhere – next to the sofa, in the corner of the room or adjacent to the entertainment system. If you're using the ottoman as more of a statement piece, place it between your seating arrangement to mimic a coffee table. From there, you can style it as you please – add a tray for holding your beverages, books and other accessories, or keep it comfortable and drape your favorite throw blanket over the top.
Rearranging and styling your coffee tables and ottomans makes more of an impact than you once believed. If you need help bringing these tips to life, consider contacting a design consultant from Decorating Den Interiors. He or she will come to your home for a free consultation and offer insight and advice based on the allotted space in your home and your personality, unique style and ideas. With his or her help, you can put the finishing touches on that room you've been putting aside for decades.
So what are you waiting for? Contact a personal decorator from Decorating Den Interiors today to get started.