How to prepare your entertainment room for Easter
Throwing a get-together for Easter can be stressful – between making the food and gathering your guests, you have a lot of on your plate. The last thing you should be worried about is decorating your entertainment room. Thankfully, you don't have to handle this task on your own – a Decorating Den Interiors personal decorator can give you a helping hand.
Preparing your home for the Easter celebration doesn't have to be a pain. Just consider the following tips and tricks for sprucing up your space with ease:
Call a Decorating Den Interiors design consultant for assistance
Again, you have plenty to worry about when making arrangements for the get-together. Let the design consultant from Decorating Den Interiors take the task of decorating off of your hands. He or she will come into your home, evaluate your space and give you expert advice on how you can best prepare for the holiday. Read on to learn about some of the adjustments you may consider, and ask your personal decorator for his or her input.
Rearrange your furniture
If you want to make the most of your space, make sure your furniture is strategically arranged. How you choose to place your sofas, love seats and accent chairs will set the tone for conversation in the entertainment room. Consider bringing each piece of furniture closer to the center of the room to initiate discussion. Be aware of the walking space as well – make it simple for your guests to navigate throughout the room. If you don't already have the right furniture, don't worry – we can take care of that too.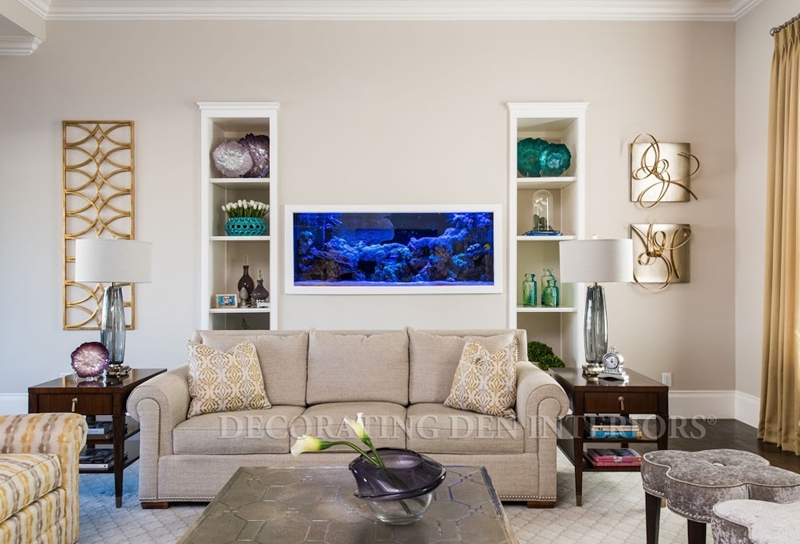 Freshen up your color scheme
If your room is still decorated with warm hues for winter, it's time to freshen things up. Complement your furniture with bright, pastel throw pillows and consider a new floral area rug to bring the room together.
Reconsider your window treatments
Easter is the perfect opportunity to celebrate the change in seasons. Even if you plan on celebrating inside, you should still accentuate the outdoors. Choosing new, delicate and soft decorative window treatments allows you to bring character to your walls without taking away from the beauty of nature. If the weather permits and you are thinking about being outdoors, Decorating Den Interiors has a large selection of outdoor furniture from which to choose.
"Liven up the space with fresh-cut flowers."
Decorate with fresh seasonal flowers
If you're going for a subtle springtime vibe for Easter, don't go overboard with décor. Just liven the space up with fresh-cut flowers. An arrangement of lilacs, daffodils and tulips along the mantel will give your entertainment room the springtime-fresh feel you're going for. This is a simple décor choice that your guests will adore.
There's no need to stress about getting your home ready for the springtime holiday. With help from a Decorating Den Interiors personal decorator, you'll have the guidance you need to spruce up your space for Easter. Your decorator will come to your home for a free consolation so he or she can get a feel for exactly what you're looking for. Are you ready to give your entertainment space some attention? Don't hesitate to contact us today!