How to prepare your sunroom for spring
With springtime inching closer, now's the perfect time to start preparing your sunroom for the new season. Let the warmth of the sunshine, scent of the fresh-cut grass and sight of the blooming flowers inspire you to reinvent the space into something more refreshing and inviting than ever before.
A personal decorator from Decorating Den Interiors can help you choose the right furniture, color scheme and outdoor décor to give your sunroom the luxurious indoor feel without taking away from the natural flair of the outdoors. Here are a few suggestions he or she may have for your space:
Play with a natural color scheme
To complement the natural lighting of your sunroom, consider following a fresh, springtime color scheme. Use bright pastels and floral patterns to accentuate the natural liveliness that makes spring so invigorating. A beautiful floral area rug can lay down the foundation of your new and improved sunroom. You can also place pastel throw pillows on your lounge furniture to invite your guests to get cozy.
Choose simple, yet elegant window treatments
You shouldn't cover the beauty of nature that surrounds your sunroom, but that doesn't mean you should leave the windows bare. Consider lightweight, elegant window treatments that provide enough privacy without making the space feel closed in.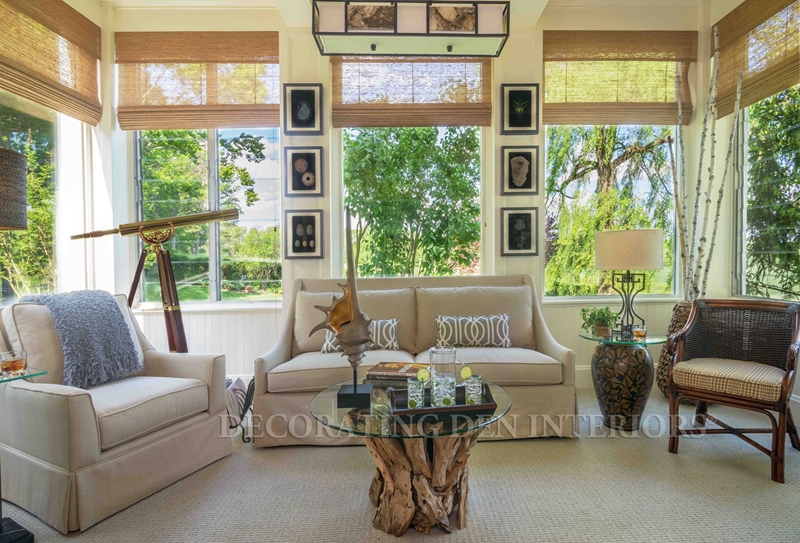 Hang planters and subtle wall décor
If you have wall space to utilize, take advantage of it – but don't go overboard. The windows are the gateway to natural décor in your sunroom, and you should want to accentuate it, not take away from it. A piece of artwork inspired by the environment can make a perfect subtle touch. Or, bring the outdoors in with a few hanging planters filled with flowers inspired by your color scheme.
Update your furniture
The sunroom is the perfect place for you and your guests to relax on a warm spring day. That means you'll need to fill the space with the right pieces of furniture to maximize comfort. A love seat and lounge chair complemented by stylish ottomans will allow your guests to sit back and get cozy. Your personal decorator can help you choose essential furniture pieces, and he or she may even suggest a few additional pieces to bring the room together. Perhaps you have empty space that could be designated to eating and drinking – your decorator can help you find a table and matching chairs for dining.
By working with a design consultant from Decorating Den Interiors, you can rest assured that your space will look and feel equally functional and stylish for the warm season ahead. Your decorator will come to your home for a free consultation and provide expert advice on how you can best spruce up your sunroom. Are you ready to get started? Don't hesitate to contact us today!