How to turn your backyard into a rustic chic sanctuary
As the season of sunshine officially arrives, you might find yourself spending more time outdoors, taking advantage of the warm weather. But can you recall when you last gave your patio space a makeover? To maximize comfort, style and functionality, you may consider a rustic chic approach. This design type perfectly complements the environment and allows you to embrace the true beauty of nature.
Need help taking this modern approach? Consider getting in contact with a personal decorator from Decorating Den Interiors. He or she can provide insight on these tips to turn your backyard into a rustic chic sanctuary this summer:
1. Invest in wooden and cast iron furniture
Wood and cast iron furniture make a rustic yet modern statement, and they complement each other so effortlessly. Place a cast iron table and chairs in the shade on top of an outdoor area rug to offer comfort while guests wine and dine. Spread wooden benches, chairs and tables throughout the area based on the amount of guests you plan on hosting this summer.
2. Decorate with fresh flowers
Use wooden crates and small industrial buckets and vases to display fresh plants and flowers. Take it up an extra notch by planting your own herbs, making this chic green decor statement a functional move too. Your design consultant can help you find an abundance of containers in different shapes, sizes and textures to place throughout the patio area.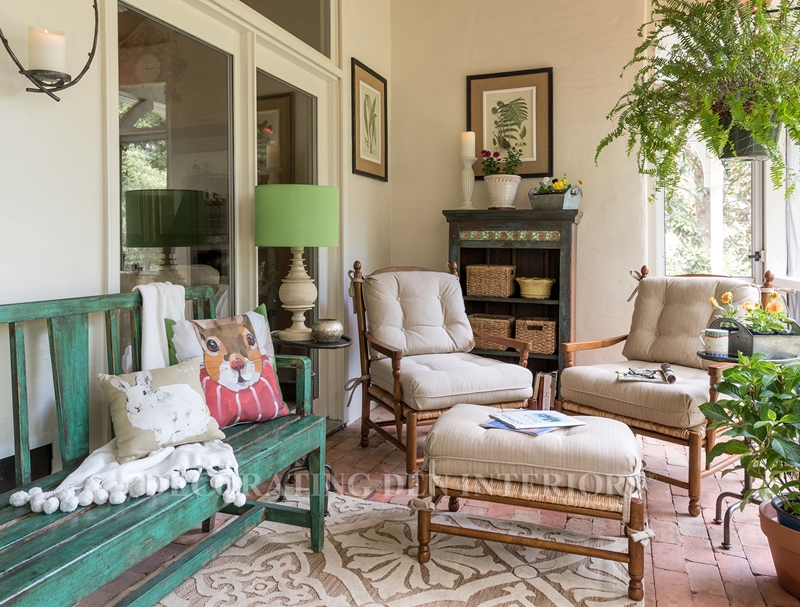 3. Incorporate a water feature
To give your outdoor area the "wow" factor nobody's expecting, consider incorporating a water feature, like a small running bird bath or fountain. The splashing sounds of the water can exude feelings of tranquility, which can turn your backyard into a private, calming oasis. This small move can make a huge statement, especially if you live near the city where the environment tends to be loud and busy.
4. Paint a chalkboard surface
Chalkboard surfaces are a huge staple in modern rustic decor. Not only do they make a stylish and creative statement, but they're also fully functional. Talk to your decorator about painting a wall or alternate surface with chalkboard paint. Your guests will love this personal and fun touch you've made.
5. Create an outdoor bar
Another unique and exciting feature that everyone loves? An outdoor bar. This idea is especially fitting if you plan to utilize your space for entertainment all summer. Your personal decorator can help you find the perfect beverage cart to match the rustic theme.
Don't neglect to improve your patio space this year. Instead, take these design tips and reach out to a Decorating Den Interiors design consultant to transform your backyard into the rustic chic sanctuary of your dreams. He or she will come to your home for a free consultation to assess the allotted patio and backyard area you're looking to upgrade.