How your window treatments can set the mood for fall
It's easy to dress your rooms in seasonal decor, color schemes and accessories for fall, but will these moves help you fully achieve the right mood? Lighting plays a key role in channeling the atmosphere in any room, and choosing specific arrangements of shades and window treatments can make or break the vibe you're hoping to achieve. To fully encapsulate the fall feel throughout your home, you may consider reaching out to a personal decorator from Decorating Den Interiors for assistance. With his or her help, plus the following suggestions, you can make the best seasonal window treatment transition based on your living arrangement.
1. Heavy fabric
Apartment Therapy suggested opting for heavy materials such as velvet or wool to bring warmth to your room, in the form of comfort and insulation. Talk to your design consultant about finding the perfect textural window treatments based on your personality and the current season – this can inspire the pattern and color of the fabric too. Plus, this option can offer total privacy in the morning, daytime and night if necessary.
"Room darkening window treatments keep most natural light from entering your space."
2. Room darkening
If you want to achieve the right atmosphere through fixture accent lighting and candles only, you may consider investing in room darkening window treatments. This material is made to keep most natural lighting from entering your space, which can also keep a cool draft from escaping the windows as well.
3. Sheer style
Those who are looking for something other than the vibe given off by dark, heavy curtains may consider sheer design window treatments instead. This type of fabric was created to let an abundance of natural lighting in, maximizing as much daylight as possible as the fall days grow shorter.
4. Warm-colored
If your motives are purely aesthetic, find a bold set of window treatments in a beautiful warm, fall shade to complement your room's current color scheme. This move will make a seasonal statement and bring comfort to your space before the holidays arrive.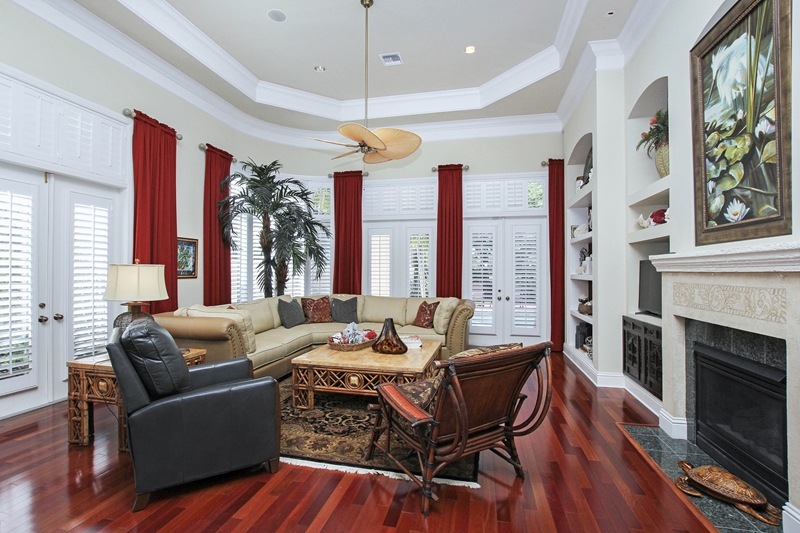 5. Long design
No matter which texture and color you decide on for your fall-inspired window treatments, make sure you choose a design that dresses the windows to the floor. Long treatments maximize elegance during the cozy season and emphasize warmth and comfort.
With an abundance of different options on your mind, choosing the best window treatment for fall can be difficult. If you need more direction or assistance, reach out to a design consultant from Decorating Den Interiors. He or she will come over to your home for a free consultation to evaluate your windows and provide guidance on which window treatment type would work best based on your space and style.
It's never too late to make decor adjustments for the season. Reach out to your personal decorator today!