Ideas for decorating a nursery in preparation for your baby's arrival
Whether it's your first or your fourth, there's something undeniably exciting about preparing for a new family member's arrival. Naturally, you want your newborn baby to feel right at home in his or her new house, and that involves creating a sleep and play environment that's one part relaxing, two parts whimsical and three parts brimming with love and care. Here are some ideas for decorating a nursery that's sure to please parent, child and visitor alike:
Find your inspiration
It's time to start hoarding decorating and interior design magazines! And if you don't yet have a Pinterest account, go ahead and set one up. Spend a few hours perusing the pages; clip or pin the images that catch your eye. Collectively, these favorite looks will paint a picture of what you're drawn to, as well as what the room should look like. It's probable that the photos will share a common thread – you love beachy decor, for example. To incorporate elements of sand and sea into your nursery, you might decide on a nautical theme with fun accessories like seashells or boat oars.
Or, perhaps you have a favorite item that you picked up years ago while traveling abroad. This could easily serve as inspiration from which to build the room upon. Bring that unique item with you to your local home improvement store. With it in hand, you'll have better luck selecting a wall color that will complement the piece. One error homeowners often make when decorating a nursery is buying paint first and then trying to locate coordinating fabrics, floor coverings and accessories. Unless you have a highly trained eye, this is best avoided.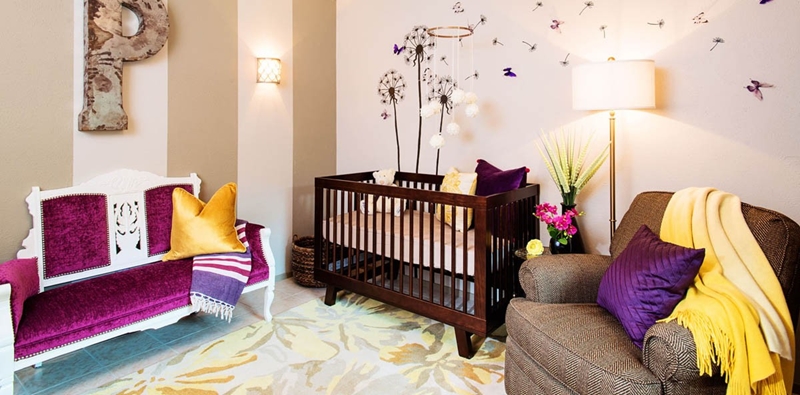 Think outside the box
All nurseries need a crib and a rocking chair. But why not shake things up a bit by adding a sofa or a daybed to the mix? Not only can this one piece of furniture add a large punch of color to the room, it also serves a number of functions: a place to sleep when your little one is sick, a surface on which to fold (endless mounds of) clothing and a spot for your older children to sit while you tend to the baby. If room size is a concern, look for a loveseat or an interesting antique couch in a more diminutive size.
Are you or your significant other musically inclined? Jazz up the nursery by framing record albums instead of traditional baby-friendly artwork. Live on a farm or ranch – or wish you did? Repurpose an old barn door in place of a standard closet door. Swap a boring bookcase for an elevated version that's shaped like a tree or a robot. If there's a room in the house you can truly have fun decorating, this is it.
"Jazz up the nursery by framing record albums."
Encourage good sleep habits
Unfortunately, babies aren't born into the world knowing how to sleep from 8 p.m. to 8 a.m. Thankfully, there are steps you can take to encourage good sleep habits right from day one. Light should be used strategically to help your newborn differentiate between day and night. Install a chic chandelier with 50-watt bulbs or let plenty of sunlight stream in through the windows during normal waking hours to help prevent excessive napping.
Tip: To calculate optimal wattage, multiply the room's square footage by 1.5.
Invest in room-darkening or "black out" window treatments to induce sleepiness. Additionally, pick up a sound machine; these magic devices emit consistent noise that babies can focus on, allowing them to tune out household commotion and peacefully drift off to dreamland. They come in a variety of styles and colors to match any decor.
Leave it to the professionals
If the mere thought of designing a room leaves you sick to your stomach or if you simply don't have the time required to undertake such a task, it might be worthwhile to hire a skilled interior decorator to handle the project from beginning to end. In doing so, you can let go of the worry and creative self-doubt that comes with going it alone. You'll feel calm and confident that your baby's nursery will be all you've ever dreamed it would be.
The professional interior decorators at Decorating Den Interiors will come to your home for a complimentary design consultation. During this initial meeting, you'll iron out the specifics surrounding the scope of your renovation. You'll also be able to see and touch fabrics and give input on color palettes, furnishings and room accessories, so even though you aren't doing any actual work, you're still a part of the process. With 45 years of experience, Decorating Den Interiors is a company you can trust. Contact a representative today and be on your way to nursery nirvana.