Is your home ready for wedding season? Tips for throwing a bridal shower
Whether you're the mother of the bride or the trusty maid of honor who's volunteered to host for the bridal shower, you've got ample planning to do. Beyond sending out the invitations, hiring the caterer and purchasing the beverages, your home needs to be ready to accommodate the guests.
But don't let the idea of sprucing up your home stress you out – you have dozens of tasks to worry about. Instead, reach out to a personal decorator from Decorating Den Interiors! He or she can help you transform your space into the perfect party place.
For an indoor affair
If you plan to keep the social gathering indoors, designate one or two rooms for the event. The kitchen and living room – or entertainment room – make comfortable and functional areas for the party to take place. Now, it's time to consider your furniture. Do you have enough seating for the guests? Do your tables and counters offer enough space for food and drinks? What about navigation – is your furniture arranged in a way that allows easy traffic flow throughout your home? Your personal decorator can cover all of these small points you may have neglected to consider.
Once you're ready to start decorating, consider the bride's wedding color scheme. It can inspire you to use matching throw pillows, area rugs and other home accessories to make the space more cohesive.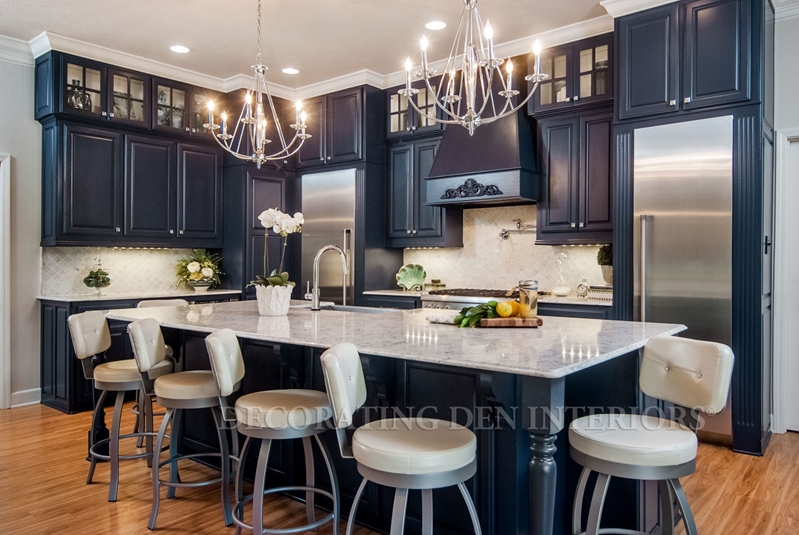 For a backyard bash
If you plan on taking advantage of the sunshine – as long as the weather allows it, of course – you'll have more room to work with outside. Again, the type and amount of furniture you choose will be based on how many guests you're having. A mixture of lounge chairs and sofas can provide comfort to everyone. Don't forget – you'll need multiple tables as well: one for food and beverages, another for presents and another for guests to use at their leisure. Decorating Den Interiors carries an array of outdoor furniture, so your decorator can help you find the perfect pieces to fit your needs.
Following the bride's wedding color scheme is certainly tradition, but that doesn't mean you don't have other options. You may be inspired by the warm weather to decorate with fresh, earthy hues, like greens and blues. Of course, you should pass all ideas along to the bride before making any decisions. If it's a surprise bridal shower, use your best judgment and make choices based on what you think she'd love.
No matter where you choose to throw the bridal shower, a Decorating Den Interiors design consultant can help you transform your living space for the event. He or she will come to your home for a free consultation to get a better understanding of the allotted room and your goals. With expert advice from your personal decorator, you may consider using your space to throw parties more often!
So what are you waiting for? That wedding date is creeping up sooner than you think. Don't hesitate to contact us today!