Minimalism vs. maximalism: How should you decorate?
Decorating your home is a simple yet bold way to showcase your personality, style and taste to family and friends. But this isn't easy for everyone: If you don't have a knack for design, you might find it difficult to arrange furniture, paint the walls, hang decor and place accessories precisely to ensure the space becomes stylish without cramping on comfort and cohesion.
If you find yourself believing that less is more, you may consider a minimalist design approach. On the other hand, if it's harder for you to set boundaries when it comes to decor, maximalism might be the route for you.
Not sure if you have a preference yet? Don't worry. Let's dive deeper into the differences between minimalism and maximalism so you have a better idea of how you want to decorate your home:
Minimalism
Think of minimalism as an "only the essentials" take on home decor. You're not interested in cluttering a room with as many pieces of furniture, decorations and accessories you can fit. Instead, you want to keep things simple, serene and refreshing. A two-toned color scheme will please you, followed by a sofa, coffee table, area rug and accent wall art. You're less interested in showcasing your possessions, rather you want to highlight a few, prominent statement pieces. Architect Lucien Rees Roberts told Architectural Digest that minimalism design maximizes comfort.
"Minimalism allows beautiful objects to be seen in their most sculptural and pure form whether they are modern or antique. What is essential, though, is that a space be comfortable and warm – a chair should have a lamp nearby for good light for reading, and sitting areas should be conducive to good conversation."
Minimalism is all about simplicity. If "less is more" is your mantra, this is likely the style for you.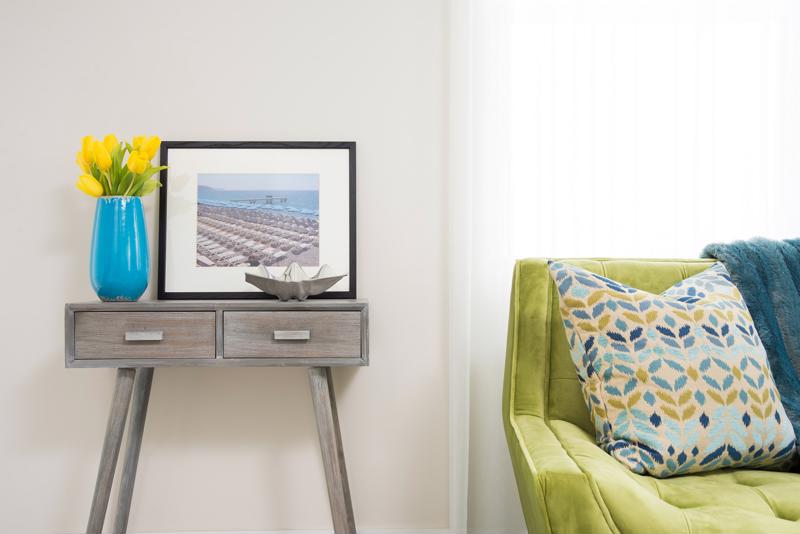 Maximalism
On the opposite side of the spectrum, maximalism has no rules. It's about making use of different colors, patterns and textures in design, and utilizing bold fabrics, statement furniture and accessories, but in a way that forms a cohesive connection, not a disorderly headache. Take advantage of the opportunity to juxtapose materials and styles, because maximalism doesn't expect you to match. Remember: With a maximalist design scheme, there are no rules. Think of it as organized chaos.
Architect Kelly Wearstler told Architectural Digest that maximalism is an opportunity to design with no boundaries.
"There is a joy in designing a space without limitations and restrictions, where excess is encouraged and unlikely pairings create beautiful and unexpected harmonies."
Maximalism celebrates expressive taste. If "more is more" fits your personality, this might be the route to take.
Can't decide? Call Decorating Den Interiors
If the idea of less is more is appealing to you, yet you'd love to play around with different tones, textures and accessories, call a personal decorator from Decorating Den Interiors. He or she will come to your home for a free consultation to assess your space and discuss your ideas. At the end of the day, it's your home, so a design consultant is going to find a way to meet you in the middle and develop a plan that transforms your dreams into a reality.
So whether you've fallen in love with the simplicity of minimalism, can't wait to show off your maximalist style or still need guidance between the two, contact a Decorating Den Interiors personal decorator today. It's time to turn your home into the personal sanctuary you always wanted.