Must-know design elements for creating a man cave or she shed
A personal place to hide away from the the stresses of life. A gorgeous getaway that's in the comfort of your own home. Doesn't it sound like the works of a dream? You can, in fact, turn this dream into a reality – by creating your very own man cave or she shed.
You may be familiar with the term man cave: a room that's specifically dedicated to the man of the house. But now, women have their own special spot to escape to as well: the she shed.
Creating these personal spaces, whether they're in an empty nook inside your home or a literal shed in the backyard, can be simple and seamless with help from a Decorating Den personal decorator.
Here are a few must-have design elements for creating either glorious getaway:
1. Cozy furniture
What kind of personal oasis would this be without the most comfortable pieces of furniture? Before arranging the space with any sofa or set of chairs you can find, talk to your personal decorator. He or she can help you find the cozy lounge chairs and sofas that align with the design theme and style you're going for.
2. Perfect lighting
Based on the amount of natural light that fills your man cave or she said, decide how you'll make use of conventional lighting fixtures. If you're going for more of a tranquil vibe, accent ambient lighting will work in your favor. If you plan to use this space as a workshop of some sort, you may need additional lighting that makes it easy to concentrate on your projects. Perhaps you'd even like to mix up these lighting elements in the space.
Also, you may consider room darkening shades to enhance the tranquility of the space if the room's too bright. Your design consultant can help you choose the right fixtures and window treatments to complete the room.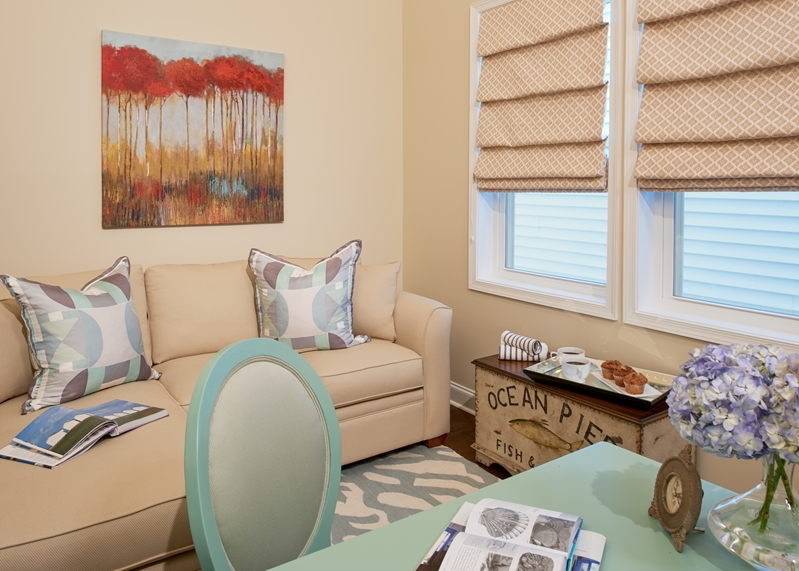 3. Personalized decor
Last but not least, you can't forget about decorating with unique accessories and arrangements that let everyone know this is your space. It's your personalized getaway, after all. With the perfect arrangement of wall art, table decor, decorative pillows, mirrors and other decorations, you'll add depth, character and style to your hideaway.
There may even be a unique feature you want to add to the space, such as a mini library or bar area. Your personal decorator can help you pick out custom shelving units, bar carts and other decor elements to bring your dreams to life.
Every personal getaway should be unique to your style. That's why connecting with a design consultant from Decorating Den Interiors is key. With his or her assistance and decor expertise, you can create the perfect she shed or man cave based on your personality. Your personal decorator will come to your home for a free consultation to assess the space and get a feel for the theme you've envisioned.
Have you ever been more excited to create your own getaway? Don't hesitate to contact us today!