Organizing every room for back-to-school
It might seem like the summer just started, but for those in school, it's winding to a close. August is more than half over, which means that water fights and backyard BBQs are soon to be replaced by notebooks and worksheets. The best way to make this transition as smooth as possible is to get things together ahead of time – by taking the next few days to organize, you can ensure that the school year gets off on the right foot.
With subtle adjustments, you can make every room in the house function a little bit better during the school year. Here is a room-by-room breakdown of the various steps you might take:
Kitchen
Monday through Friday, your kitchen is likely to be a whirl of activity. In the morning, people will be enjoying a quick breakfast or hunting for their packed lunches. In the afternoon, they might be rooting around for a pre-dinner snack. Corral the chaos by designating different sections of the refrigerator for different meals. By putting packed lunches in the same spot every time, you make sure that nobody heads off to school having forgotten theirs. Have one pantry shelf for after-school munchies, so people know exactly where to go when they need to pick up a nosh.
Investing in a round table also gives the whole family a place to convene every morning and have breakfast or coffee. This is a great time for everybody to talk about what they'd like to accomplish in the day, and to go over any last-minute instructions.
Bathroom
When it comes to getting the whole house ready for back-to-school, it's easy to forget about the bathroom. However, it's no less important than the rest of the house. Every morning, when the kids get up and get ready to go, they're going to spend a lot of time in and out of this room. The more intuitive the design, the faster the entire process will be. It is hard to start the day right when you're worried about being late for the school bus because you couldn't find your toothbrush.
To make life simpler, organize toiletries for children in clearly marked baskets or colorful plastic bins. This is especially important for multi-child households – 7 a.m. is far too early to referee an argument about who took whose washcloth. For teens, built-in shelving makes it easy to store hair gels, makeup, shaving kits and anything else they might need to feel clean and ready to go. When everything has a place, nobody has to fumble around while half-asleep.
Bedrooms
Now is the time to transform bedrooms from summer mode to school year mode. Make sure that there is a designated space where homework can get done, such as a small table for a younger child or a sturdy desk for an older one. Comfort is important when working, so invest in a high-quality chair as well. Installing plenty of storage ensures that there is always somewhere to put papers, pens and calculators.
When it comes to the closet, you'll want to design with time-saving in mind. Things get busy during the school year, between classwork, sports and hobbies, so it's important that each item is organized ahead of time. Drawer inserts and partitions are simple ways to create a home for everything, and you can put every outfit on a hanger marked with the day of the week it should be worn. That way, mornings are a breeze.
Just because a room is designed for productivity doesn't mean it can't be fun as well! When organizing for back-to-school be sure to add touches that fit your child's personality and interests. Whether it's using accessories in his favorite color or choosing lamps that fit in with the vibe she loves, this is a great opportunity to create an atmosphere that everybody can be happy with. For help with inspiration, contact a Decorating Den Interiors associate.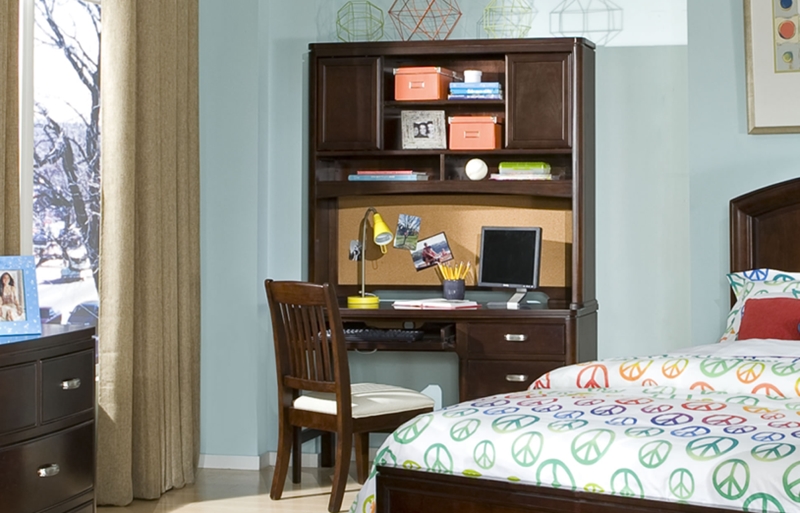 Living Room
When back-to-school time rolls around, it's only too easy for things to get cluttered. Books and supplies are packed into backpacks and then dumped out, pencils and crayons are dropped and roll out of reach, and it seems like everybody just has belongings that are everywhere. In a shared space like a living room, this can easily get overwhelming. Head off this problem by making your family and living rooms neutral territory, which should be kept free of personal affects. Use shelves, ottomans and entertainment units to create a place for everything, and ensure that anything that doesn't belong in the living room doesn't stay there. This way, the space can function as an environment devoted to relaxation and conversation, not arguments about mess.
Ready to get your home organized for the school year? Talk to a Decorating Den Interiors personal interior designer today.