Outdated Trends to Leave Behind in the New Year
Outdated Trends to Leave Behind in the New Year
As the year comes to an end, it's common to reflect on everything that's happened in the last 12 months and look forward to what's to come. The same goes for your home's design. 2022 had some fun design trends, but it's time to say goodbye to these ever-changing fads and choose interior decorations that will stand the test of time.
Your home's design doesn't have to change every time the calendar flips. Make a new year's resolution to invest in your house decor, and pick pieces that you can love no matter the year or season. Check out some trends that, despite having reigned supreme for the last few months, are ready to be retired.
All White
In 2022, there was a rise of completely white or neutral spaces with an absence of any other colors or patterns. But now people are beginning to choose more colorful and bold options when it comes to designing their homes. That means it's time to introduce bright throw pillows and throws, dark-colored sofas and wall art that draws people's attention.
Although white walls will always be ubiquitous and great for balancing the style choices of the room, it's time to bring your personality into your space by incorporating light and dark hues. Some great color options include blush, maroon, clay and olive green.
Shiplap
There's definitely nothing wrong with the beautiful, vertical wood paneling that was all the rage this year, but it's time to switch your wall's design. Instead of installing these planks, try putting up patterned wallpaper or painting an accent wall in a shade of red, blue or green — tints that can really pop and become a focal point in your space.
If you can't let your love of shiplap go, you can also update this design choice by using thicker wood strips, spreading the space between the boards out or painting over the shiplap completely.
Minimalism
The untextured, minimalist look has begun phasing out of the design circuit In its place, we're seeing more character and dimension. Now, this doesn't mean your room shouldn't be organized and put together. The move to less empty space is simply about including textures, patterns, warm colors and rounded furniture. Minimalism is highlighted in a few ways: simplicity, clean lines, monochromatic color palettes and open spaces. To make some updates, switch out some of those clean lines for more organic, abstract ones and add some of the previously mentioned colors to create a more welcoming atmosphere.
The biggest push for home design in 2023 is comfortable and inviting layouts, decorations and furniture. Rather than decorating with only the bare essentials, try adding a family heirloom, a colorful vase or a textured rug to your room. This could take your style from cool and quiet to vibrant and fun with just a few changes!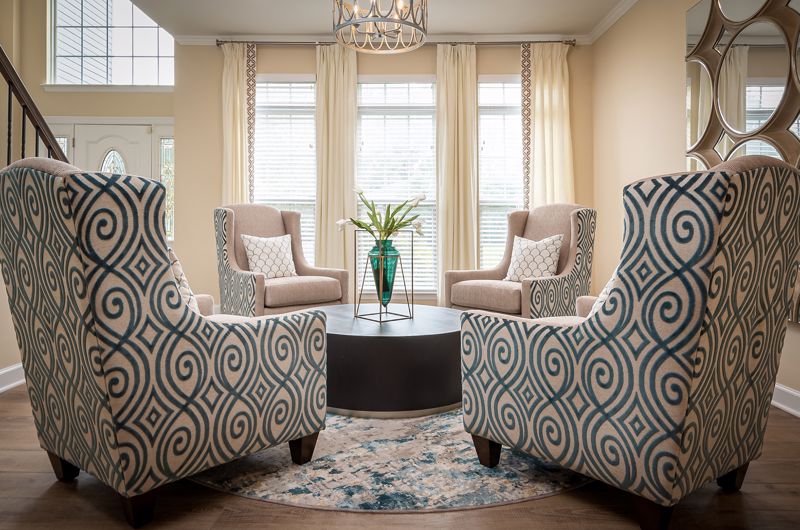 Fast Furniture
Wave goodbye to cheaply made or poorly constructed pieces. Often, these items are manufactured very quickly and with little attention to detail or quality. To ensure that you buy pieces and fixtures that will make it through 2023 and beyond, purchase sustainably built and high-quality units that you adore. It's okay to spend just a little more to invest in the standard of products that you deserve. Plus, it will most likely end up being cheaper in the long run due to not having to repurchase furniture whenever low-cost pieces break.
Wrapping up the year is always exciting: There's a sense of newness as every December concludes. Make certain that you enter the new year with confidence in your home's design and the decor pieces that you've chosen by getting some assistance from Decorating Den Interiors.
Our personal decorators have their finger on the pulse of all things beautiful and new, while still creating designs that work year in and year out. Once you contact us, you'll be assigned a designated personal decorator who will complete a consultation with you. During this meeting, they'll visit your home to gain an understanding of how you want to update your home's design. Your interior designer will then come up with a plan and get your home ready for the new year.
End the year with a design plan in mind. Contact us to get started!