Prepare your porch for spring: Consider these decor tips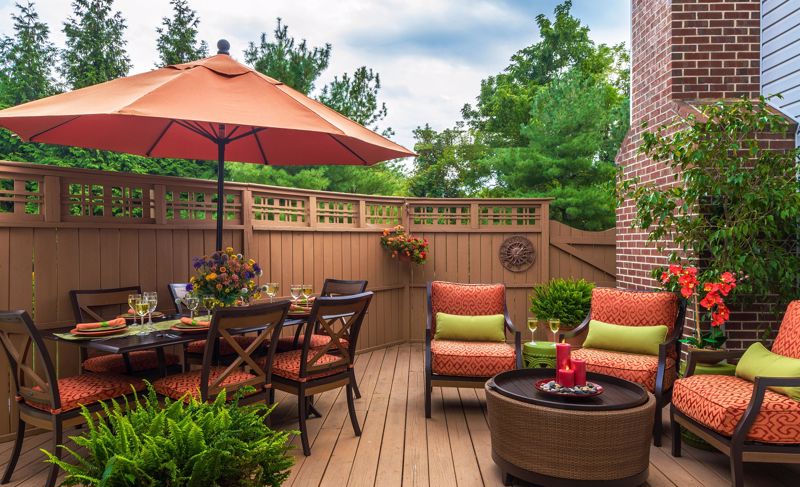 The front porch is a haven for personalization. It's a place to sit, relax and wave to neighbors on a warm day. It's a spot to enjoy your morning cup of coffee as the sun rises. It's an outdoor area to house and maintain your favorite potted plants. No matter how you utilize this exterior space, those who are lucky enough to have a front porch understand just how satisfying and useful it can be.
With spring on the horizon, you may be starting to get antsy about how you'll redecorate your home for the new season. Even the front porch could use a revamp this time of year; it's been months since you've been able to enjoy your front yard, so it's a great opportunity to maximize its use, enhance the curb appeal of your home and and boost your mood after a winter stuck inside.
Need some assistance decorating your home's exterior this year? Here are a few of our favorite tips for prepping the front porch for springtime:
Evaluate its main use
Before plan a total revamp of this gathering space, think about how you currently use it or plan to utilize it in the future. If you don't make use of the front porch at all at the moment, you can start with a clean slate. Here are some ideas to consider as plan your design scheme and decor:
You want a space to grow your flowers. Creating a functional "garden" on your front porch is totally achievable with the right set up. Choose your planters depending on how much space you have; you should leave enough standing room for yourself so you can tend to your flowers and plants with ease.
You want a space to relax. If the front porch is going to become your relaxation station, the main feature you want to emphasize is seating. An outdoor lounge chair or sofa can work wonders — just evaluate the amount of space you have to work with when determining the best option.
You just want a space that looks good. Maybe there's only enough room to place a package or two on your front porch. Just because there isn't a lot of space, doesn't mean you shouldn't decorate it. Outdoor decor can transform a small area that seems like nothing into one of the most beautiful spots on your property.
Add traditional decorative elements
No matter what type of vibe you're going for on a front porch, there are certain decorations that just complete this space. Something as simple as a decorative wreath on the door or a welcome mat can give the front porch that comforting feel many homeowners strive to achieve. A place to sit and relax can be an additional classic touch, but it's not necessary if you don't have the space to accommodate seating.
Give your front porch the leg up
If you want to take a step back from traditional decor and wow your delivery man, neighbors and other passer's-by, take your decorations to the next level. An outdoor area rug can make the space look and feel cozier and more inviting, as can a wicker sofa with cushions and outdoor throw pillows. A set of wireless outdoor speakers can level up your space as well — you'll become the coveted party spot in no time.
Work with Decorating Den Interiors
Even with a ton of different design and decor tips, you might feel a little bit lost. Don't let the idea of getting overwhelmed during this revamping project keep you from completing it all together — call a personal decorator from Decorating Den Interiors instead! One of our professional, experienced consultants will contact you to schedule a free consultation (whether it's over the phone or at your house, depending on your comfort levels during the pandemic) to get the ball rolling.
During the discussion, you can collaborate back and forth with your initial ideas, then come up with other design elements based on your personal style and preferences for the front porch. From there, your design consultant will devise a plan to turn your exterior home space into a gathering place you won't want to leave.
Spring is almost here and warm weather is on the way! Prepare in advance by calling Decorating Den Interiors today to get started on your next home design project.