Turn your basement from drab to fab
Are you currently scared to go down into your basement? Is it a cold, dark and damp place that could very well have been the set of a horror movie? OK, that might be a bit of an exaggeration, but one thing is for sure – you certainly don't want to go down there, let alone spend an extended period of time amongst the spiders. But instead of being intimidated by the dungeon, look at it as a blank canvas ready for you to reclaim the space and make it functional. There are a number of things you can do to transform your basement into something special.
If your basement is an unfinished waking nightmare, have no fear. Decorating Den Interiors personal decorators can turn that mess from drab to fab in no time.
Turn your basement into a bedroom
Need an extra room for your child who's outgrown his childhood bedroom? Or perhaps you need some more lodging for when the extended family comes to town. No matter what you need the extra bed for, Decorating Den Interiors personal decorators have you covered. If you have cold, concrete floors, your first step with your decorator should be to lock down a floorcovering that will make your room pop and your toes stay snug and warm.
Before you start covering up the walls, Houzz explained that you should take a look around and see if they add any rustic charm. Exposed brick, beams or wood paneling make for unique differentiator that might just have you wishing you could move into the basement. The source also noted that when you're designing the aesthetics of the room, you need to place the bed against an interior wall, otherwise it might get a bit cold. Opt for a cushioned headboard and plenty of fluffy pillows and quilts that will make anyone feel like they're in a hotel. Also, don't forget to incorporate some bright lighting so the room doesn't feel like a dungeon.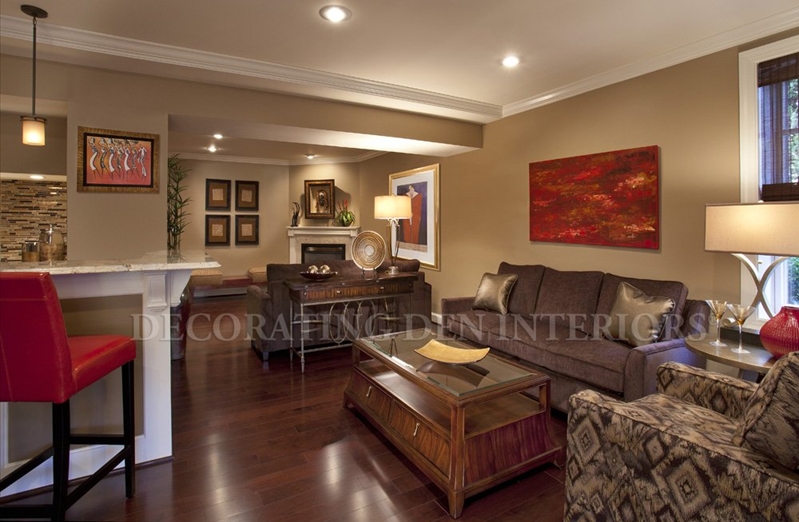 Make your basement a home entertainment center
Does your family love the movie theater experience? The big screen, surround sound, reclining chairs and of course, popcorn galore can be located right in your very own home. Customize your theater seating with your personal designer. Once you pick from a selection of armchairs to retreat into during a horror flick, or an intimate chase for two during a romantic comedy, you can decide what upholstery fits your family.
Don't forget, ambience in a movie theater is everything, so you'll likely want to work in dark colors on the walls and ceilings, and some thick drapery to block out any unwanted light during your movie viewings. Consider display shelving where you can store all your movie memorabilia and snacks so you don't have to miss any scenes in the middle of the movie for a treat. And for the piece de resistance, include some spot lighting for when you have your big movie premiere nights – or friends over for an evening of movie marathons. Consult with your personal designer to see what more you can do with the space.
"Open up the most exclusive lounge in town."
Transform your basement into a cellar pub and lounge
Has dad taken up wine making as his latest endeavor? Open up the most exclusive lounge in town – conveniently located right down the stairs. Your basement is the perfect place for a personal winery, explained Wine Enthusiast, because you don't want any light hitting the wine. It also needs to keep at about 58 degrees Fahrenheit during its aging process. If you store your wine on racks around the room, it will certainly make for interesting decor that speaks to your interests for itself.
While your pub should have a bar accompanied with supported bar stools for your regulars, you should also have a lounge section complete with leather chairs, couches, and a dark wood coffee table – or wine table, rather. Work with your Decorating Den Interiors personal designer to help you get the scene just right.
Convert your basement into a billiard room
Who doesn't love a good game night? Make your home the place all the kids – and let's face it, the adults too – want to flock to after school and on the weekends. A game room won't be hard to put together with your personal decorator by your side. Include staple table games like pool, ping pong or air hockey, depending on your family's preference. But because its your home and you can do what you want with the space, why not also add in a wall of games?
Make sure you have all the classics. Everything from a deck of cards to board games. Of course, the most important part of this set up will be the space in which you can play on. Create a cozy corner where everyone can comfortably gather around a card table for an evening of family fun and entertainment.